Ski Racers Go for Gold at Tussey Mountain
The Tussey Mountain Alpine Racing Team (TMART) took to the slopes on February 15 for the annual Tussey Mountain Slalom ski race. Tussey was full of families, volunteers, and racers from all over Pennsylvania. The drop in temperatures on Friday night ensured a good race day for everyone at the mountain.
There were 95 boys and 78 girls who attended the race. Out of those racers, Drue Lincoln, a 5th grader from Corl Street Elementary was the highest placing TMART girl, taking 15th place overall and 2nd in the under 12 age group. Van Glantz, a 7th grader at Mount Nittany Middle School was the highest placing boy, taking 3rd place overall and 2nd in the under 14 age group. 
"I was really impressed and excited for our athletes" Dave Fonash, the head under-16 coach for TMART, said. "Race weekend is so much more than just the actual racing. I was so proud of how all the athletes all helped each other, kept each other positive, and supported each other."
"My results came out better than I thought they were, so I guess it wasn't terrible, but I know that I can improve on my second run," freshman Charlotte Takac, said. Takac ended up with 17th place overall.
Not only were the racers fast, but the weather also played a role as Takac said there were "much better conditions than what we've had earlier this week.
"Earlier this week our ruts were terrible," Takac said, "but now it's pretty smooth, pretty icy, and pretty slick which is good for fast racing." 
Many kids ended up milliseconds apart from each other, and although it may not seem like much, one second counts for a lot in a race run.
"Ski racing is extremely competitive, so when you get to higher age groups, there are usually closer abilities and skillsets," Sage Newman, a State High freshman and seven-year member of TMART, said. "Very small amounts of time separate you."
The race involved athletes from ages eight to 15. Each age group is represented by a certain number of racers and the fastest time for each age group is recognized. All racers who complete the course without losing a ski or being disqualified earn points towards their standing for higher-level races and state championships.
Athletes over the age range (16-18) of the race who still want to ski can "forerun," which is timed testing of the course.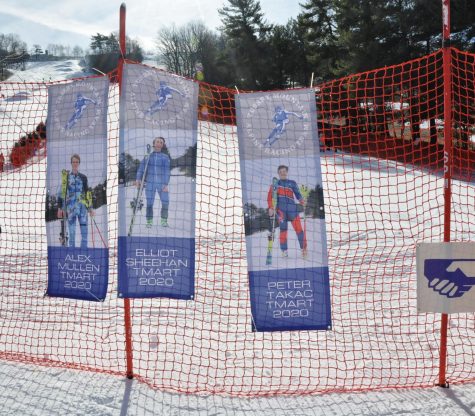 "Instead of having to worry about making a postseason event, all I have to do is ski," Elliot Sheehan, a State High senior who foreran the race, said. "When you see and hear all of the younger kids cheering you on, it is really something special." 
The Tussey skiers were not the only ones who enjoyed the race. "Tussey has always just been one of the races that I've always looked forward to," Cara Swisher from Liberty Mountain Race Team said. "It's always been fun. It's definitely a lot more laid back than the other races I've been to." 
Racers who have accumulated enough points will move to state-level competitions held February 21 to 23. Along with this race, Tussey also holds the Pierre Lallement Memorial Slalom which was held on Sunday, February 16.