Penn State Football Spirit is Alive
Saturdays hold the joy of going to or watching a Penn State football game: cheering, eating, and spending time with family and friends as the game was being played. However, this opportunity was almost taken away from the students, fans, and parents due to the COVID-19 pandemic. In early August, BIG TEN, an elite group of schools that compete in athletics, decided to cancel the football season due to the rising cases of COVID-19 in the United States. However, after much consideration, the cancellation has been changed: the football season will resume as soon as October 23-24. Many people, not just the athletes, were affected by the previous threat of not having a season. Fans all around the country were upset over the initial cancellation. They thought they would not get to host tailgates or parties, and would not be able to watch the athletes play.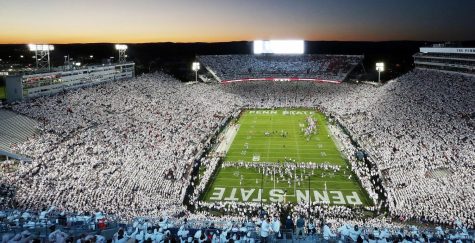 Penn State was supposed to play against Kent State for their season opener on Saturday, Sept. 5. Fans were ready to do the weekly grocery shopping to stock up for supplies to tailgate, and throw parties. 
"The rhythms of life are now off," said Jay Paterno, Joe Paterno's son, in an interview with the New York Times.
Many Penn State fans have been rooting for the team for the majority of their lives. Curt and Debra Zimmerman have been fans of the game and university for more than half of their lives. Going to games in the brisk weather, tailgating, and being surrounded by 100,000 people who all have the same goal of winning the game, are just a few reasons why they love the game. 
"More than anything, football has always represented integrity and humility, " Curt Zimmerman said. 
He knew he wanted to go to Penn State as a sophomore in high school and never looked back. "I'll miss the camaraderie of 100,000 people all going in the same direction. You can watch a game on TV, but the feeling isn't the same as being there," Zimmerman added.   
The Zimmermans did not process what their fall will look like without a football season. They have been going to the games for as long as they can remember, and the absence of the season will change their whole routine.
"It's almost like it hasn't sunken in yet," Debra Zimmerman said.
Going to games allows people to forget about the worries in their lives; all that matters is what is happening on the field. Spectators will not be allowed to attend the games, which allows for a season, but is still upsetting to most fans. 
The colors blue and white truly mean something to the people in this town, and without Penn State football, some fans were lost. However, with the threat of the season being taken away from the athletes and fans, the excitement for the 2020-2021 season is now as strong as ever.