Mac Miller Remembered: The Tragic Life of A Talented Rapper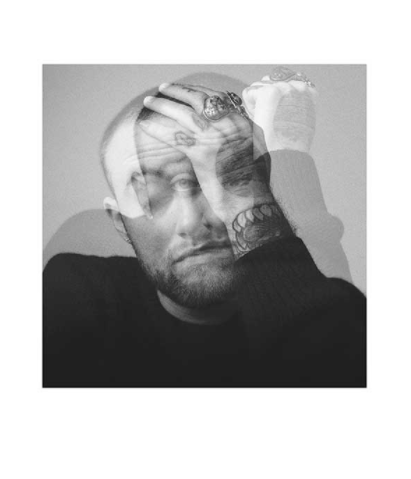 On Sept. 7, 2018, rapper Mac Miller was found dead in his Los Angeles home after an accidental drug overdose. Variations of this headline were on almost every news outlet in America. Those who weren't familiar with his music recognized him as the man who dated famed pop star, Ariana Grande, for two years before splitting up in May of 2018. The two had released music together before his death, and Grande has written many songs in memoriam of Miller, such as "Ghostin." In her 2019 hit song, "Thank U, Next," Grande sings "Wish I could say thank you to Malcolm/Cause he was an angel."
Unfortunately, as Miller is very well known for dating the famed singer, people tend to forget about his personal story. 
Born on Jan. 19, 1992, Malcolm James McCormick (Mac for short) became Pittsburgh's shining star. Born and raised in the Steel City, Miller taught himself how to play piano, guitar, and various other instruments as a teen. He began rapping under the name Easy Mac, and released his first mixtape "But My Mackin Ain't Easy" in 2007. Miller kept rapping and signed to Rostrum Records in 2010. He then caught some fame on the single "Knock Knock" from his first album "K.I.D.S." 
Miller kept releasing new music, including another album called "Blue Slide Park," named after a Pittsburgh park known as Frick Park. On the Billboard Top 100, this album was his rise to fame. It reached number one on the Billboard Top 100 on Nov. 26, 2011.
In 2012, Mac released a Jazz album called "The Velvet Revival" under the pseudonym Larry Lovestein. 
In the following years, Miller released popular music and collaborated with famous artists such as Lil Wayne, Kendrick Lamar, Cee Lo Green, Miguel, and Ariana Grande. Miller and Grande released a romantically charged song, "My Favorite Part," in 2016. This wasn't the first time the two collaborated. In 2013, Grande invited Miller to have a verse on an early single, "The Way." 
Miller was a very talented artist and songwriter who battled against depression and substance abuse. His music has helped many people overcome the grips of depression and sadness. Junior Scott Fremberg was among those impacted by Miller.
"Mac Miller affected me in a way no other artist could. I found relatability in a good majority of songs, and also some of his work made me understand more about love, death, and just life in general," Fremberg said. 
Miller's last album, "Swimming," was released in 2018. This album held key clues to what Miller was feeling. In the song Come Back to Earth, the lyrics read, "I just need a way out of my head." This caused many people to worry about his mental health. 
"Throughout this album, he included several examples in lyrics and song titles that let me to be concerned about his mental health at the time," junior Eliza Marx said. 
About a month before he died, Miller said in an interview, "I really wouldn't just want happiness. And I don't want just sadness either. I don't want to be depressed. I want to be able to have good days and bad days."  
Miller had a long battle with drugs and had mentioned using cocaine and cough syrup in 2014. Miller died on Sept. 7, 2018, of a drug overdose. 
After his death, his team posthumously released an album called "Circles." This album placed third on the Billboard Charts. Miller's legacy lives on and his music will never fail to touch the hearts of people around the world.