Fall Fashion at State High
Despite the fact that most high school students have been robbed of their opportunity to flaunt back-to-school shopping or their favorite pair of shoes this year, expression through fashion persists. Quarantine presented a unique opportunity for high school students everywhere to reinvent themselves and their style. This year, instead of displaying them in the hallway, students of State High presented their favorite clothes the way they now know best: online.
Staples
Sensational internet trends come and go, but classics like band tees and Old Skool Vans are timeless. Layering long-sleeves over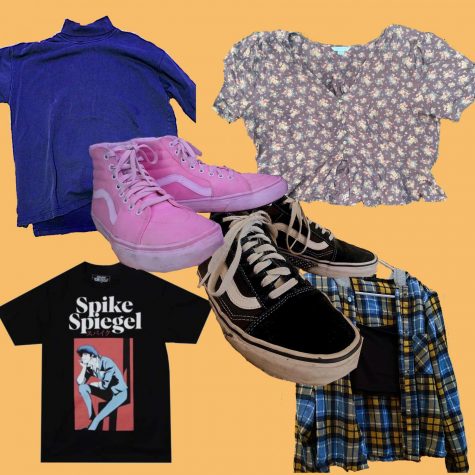 summer outfits extend their practicality as State College dips into low temperatures. Graphic tees, especially band tees, are essential items in many closets as they provide a simple way to put together an outfit that reflects their interests and personality. 
A long-sleeved blue turtleneck from sophomore Alex Konunchuk and a flannel from sophomore Casidy Cohagan serve as cold-weather options this fall. Bright pink and classic black vans alike from sophomores Allison Tocmo and Maggie Dardis complete any outfit. A black graphic T-shirt from sophomore Justin Monzillo and a floral top from sophomore Jessie Hunter contrast each other.
Statements
Statement pieces allow students to express themselves through fashion and demonstrate their own unique tastes and styles. By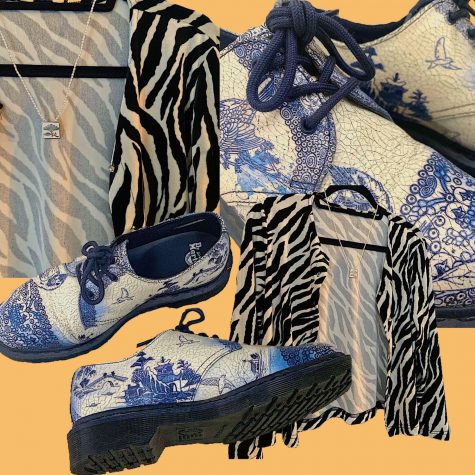 wearing pieces that are bolder and catch peoples' eyes, students who are still discovering their own style can step out of their comfort zone.  
"Sometimes I get nervous about stepping out of my comfort zone," sophomore Catherine Frank said. "At the end of the day, I try to remember that style is about what makes me comfortable, not anybody else." 
Both of these statement pieces were bought second-hand online, a form of shopping that's taken a surge in 2020. Sophomore Sally Hendrickson bought limited edition low-rise Doc Martens off Depop, a shopping app centered on re-selling. Similarly, sophomore Catherine Frank purchased this zebra print jacket on Depop from Emma Harris, the former girlfriend of deceased music artist Lil Peep, Frank's favorite artist.
Nikes
Since the 70s, Nike shoes have held a distinct presence in styles at every level. Air Forces and Jordan Ones have grown in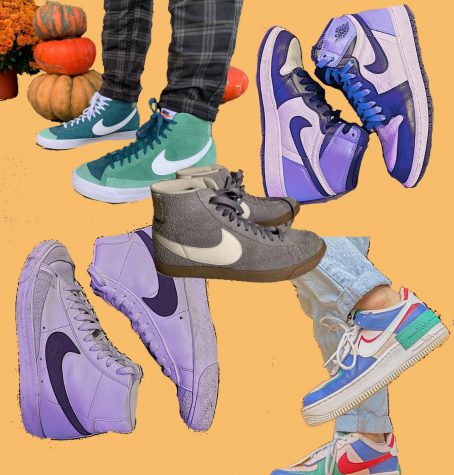 popularity among high school students and can be seen in the hallways everywhere you look. With the diverse array of shapes and styles provided, Nikes can fit any aesthetic, making them a staple in fashion. 
(Upper-left) Nike Blazer '77 Vintage Healing Jade sneakers from Sophomore Adam Leib and Nike Blazers (center) from senior Casie Eifrig show Nike shoes' versatility from sports to fashion. Jordan 1 Retro High Obsidians (upper-right) and Nike Blazers (bottom-left) from sophomore Ella Kellner are favorites in her closet. Finally, custom Air Force Ones from sophomore Quinn Colburn add color to any outfit.
Denim
Straight legged, durable, and high waisted have become the face of jeans in fashion right now. Baggier silhouettes paired with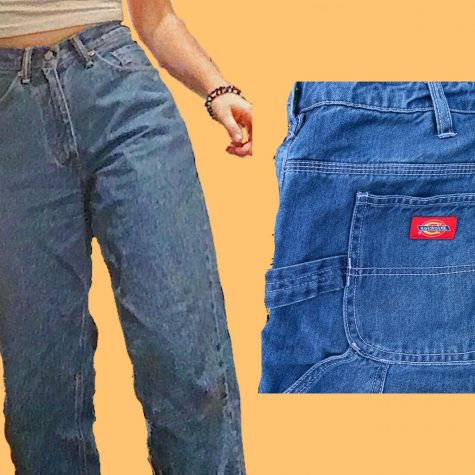 tighter-fitting tops make up a majority of outfits commonly worn by teens today. Falling in line with the throwback of 90's trends coming back to life, 'mom jeans' fit the vintage look perfectly. 
Junior Ellie Hirsch thrifted men's Levi's high waisted jeans (left) from Goodwill, an example of how many teen girls have been incorporating traditionally masculine silhouettes and items into their closets more and more. On the right, high-waisted Dickies jeans from sophomore Jessie Hunter also fall in line with that trend.
For many, high school presents an opportunity to both discover and grow out of different styles that suit them best. Self expression is a vital tool that can be used to expand confidence. This fall, whether its a pair of nikes or a flannel, teens continue to develop the clothes they feel reflect them best.