State High Kicks Off Swimming & Diving During COVID-19
On Tuesday, Jan. 12, the State High Swimming and Diving team competed in their first home meet against Central Dauphin. In swimming, State High won with a combined team score of 213.5 to the Rams' score of 137.5. Similarly in diving, State High saw success in both the boys' and girls' diving meets. The boys' top placers were Talan DiNicola in 1st place winning with a score of 196.75, Dean Brannen in 2nd with a score of 160.66, and Zak Hazenstab in 4th with a score of 109.9, In the girls' meet, Maggie Hayes placed 1st, winning with a score of 147.40, along with Samantha Hesser placing 2nd with a score of 143.50. 
The Little Lions made a big splash in this meet, winning State High's first winter sports competition since the school went back into its hybrid school plan. In the weeks leading up to the meet, the pandemic presented a multitude of challenges for the team, as the prolonging of the stay-at-home order prevented them from preparing to their fullest extent.
"It was definitely a challenge," Colleen Adams, swimmer and senior at State High said. "We didn't have practice from mid-December to the beginning of January due to the restrictions. Last week was our first week back in the pool and the weight room, and we jumped right back into our weekly training schedule."
Not going to the pool was a real setback for the team. They could not prepare as much as they could have for the meet, so they had to work with what they had. This involved working out at home in ways other than swimming, such as with cardio, in order to stay in shape. It was still a challenge for them to stay motivated and be ready for the meet, but they were able to pull through.
"I think that I swam pretty well," Lily Bang, swimmer and junior at State High said. "I was really unsure what to expect for my times since I haven't raced since last season and because there were so many breaks due to the pools closing."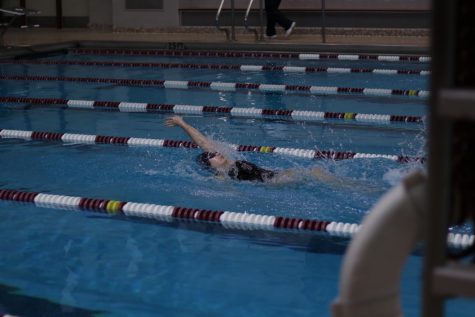 The pandemic also made meet organizers take precautions and set up restrictions to limit viral spread. Swimmers and divers on both teams had to wear masks whenever they were out of the pool and wait in the gym for their events. On the pool deck, the benches that swimmers sat on had to be wiped down periodically. There were also changes to the meet format, such as the lanes being split between schools and the diving meet being after the swim meet instead of in the middle of it. Additionally, because spectators were not permitted, the meet was live-streamed by the school, and a recording of it can be found on the SCASD Athletics YouTube channel.
"Overall I felt safe, but I'm not sure how much the relocation of swimmers to the gym actually helped since the State High team and Central Dauphin team were closer than they would have been in the pool," Erin Gall, senior and swimmer at State High said. "We would typically have the width of the pool separating the teams. I do think the relocation helped mitigate cheering though, which probably helped any potential spreading."
As for the rest of the season, the team shares a sense of optimism about any future challenges. 
"I believe the team has the potential to have a successful remainder of the season," Bang said. "We plan to follow all safety measures and take extra precautions to ensure that we can continue to compete and go into our championship season proud of the work and time we put in."
Adams echoed this sentiment when discussing her team's perseverance: "Our training is solid, we're putting in the work, and our team atmosphere is incredible. Everyone is really appreciative that we have the opportunity to compete again, and I think that makes us stronger. I think we're setting ourselves up to continue a great season."
On a final note, there were some highlights from the meet that stood out. These included close races as well as some positive interactions between swimmers and divers despite COVID restrictions.
"In swimming," Gall said, "it's customary to shake the hands of the opponents next to you after your race. Even though we were not allowed to make contact with one another, I still saw the other swimmers turn to each other and give thumbs up."
If State High sticks to its hybrid schedule, swimmers and divers will be free to practice in the natatorium as opposed to practicing at home. The Little Lions are hoping to maintain their momentum and succeed in future meets.