The Last Dance: State High Seniors Prepare for Prom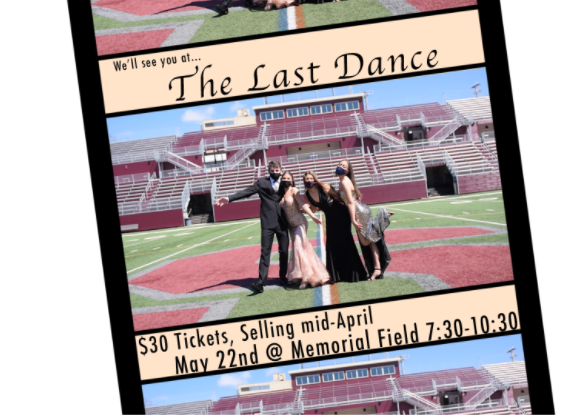 The wait is over: following the cancellation of last year's prom due to the COVID-19 pandemic, prom has made a safe comeback for the seniors of State High. While many rising seniors were scared they would receive the same fate as the class of 2020, the return of prom signifies a sense of hope and moving forward. 
The prom, cleverly titled "The Last Dance," will take place Saturday, May 22, from 7:30-10:30 pm at Memorial Field. The event is only open to seniors but has an exception for those with a junior date. Additionally, a date from another school may attend, but they must be fully vaccinated. 
As is tradition, the senior senate planned the prom. Senate members Bayla Furmanek, Dylan Bellissimo, Payton Treaster, Emma Ryan, and their adult advisor Jeffrey Kissell, worked hard to get prom approved, let alone planned. 
Back in late January and early February, the senate had to present before the safety committee and get approval from the upper administration. Afterwards, they decided to join forces with the All Night Party committee to make the prom enjoyable, since it couldn't safely have dancing or a mosh pit.
Instead of a dance, prom will look like a senior dinner, where students can dress up and eat a catered meal with their friends. "We are going to have several fun activities and games with a lot of prizes being given out," explained Furmanek, the senate president. 
There are many guidelines set in place to ensure the safety of all prom attendees. They include mask-wearing, replacing dancing with dinner and games, having six-foot spacing at tables, and more. 
"Our grounds crew has decided to set up two six-foot-long tables and put one person on each corner of the table to have a total of four per table," Kissell said about the safety decisions. It proved to be a challenge to adhere to precautions, but the senate revised and worked to make it as safe as possible. 
"The most difficult part was definitely the unknown circumstances; we weren't sure which activities would be permitted by administration so it's been a work in progress. Additionally, we get new information pretty often from administration and we need to communicate it quickly to the seniors," said senate treasurer Treaster. 
Through all the planning, it was apparent how meaningful the pay-off of planning this would be. 
"I just felt like it was so important to have something for the outgoing seniors. I look at my own daughter, Natalie, and I felt so bad for her and all seniors," Kissell commented. "They really got the short end of the stick. I just wanted to make sure that they had a little sense of normalcy as they exited State High. I know it will not be perfect but is far better than having nothing at all." 
Many seniors can't contain their excitement for the return of this event, especially after losing their junior prom experience last year. Senior Megan Yerka is one of those who are looking forward to the event. 
"I feel prom is a staple in the high school experience, especially for girls. Picking out a gown and getting ready with your best friends is very exciting and a lot of times a new experience because of the formality of prom versus a regular school dance," Yerka said. "Under the circumstances we have all faced this year, it is without a doubt so relieving that we will be able to have a prom.  Since there wasn't one last year, this really was our last opportunity to attend one, and I am thankful for all the people who could make it possible." 
While many seniors have opted out of attending prom, they are outweighed by those going. 
"With limited events and missing typical dances this year we do expect a good turnout. However, we understand that many students may also opt-out due to the atypical senior dinner rather than a dance," Treaster noted. 
While seniors are able to have a prom, the same cannot be said for the juniors. It wasn't a substitute for junior prom, but the junior senate attempted to plan a drive-in movie at the North parking lot for upperclassmen. 
"We were trying to get a drive-in movie going because we wanted to do a little something for the juniors and seniors," junior senate secretary Sydney Sebora explained. "Juniors, since we didn't get a prom this year, and seniors because we wanted them to have a little more added to their high school experience since a lot was taken from them." 
The event was ultimately canceled due to rising Covid cases in the community around the time it would have taken place. 
For many juniors, news of the cancellation of prom and the drive-in was difficult. 
"I am sad that there is no prom for us, and I don't understand that if the senior class has one, why are we not allowed to have our own as well. I understand that the senior class has gotten less chances for events this year but the junior class has also had many opportunities taken from them too," junior Maggie Bopp said. 
Though there was a general disappointment, many juniors have decided to host their own private proms and end-of-the-year gatherings to provide a sense of normalcy. 
At this time, the junior senate has shifted its focus to working on ideas for next year. 
"Because of the limited time we have together for the rest of the year and student elections being next month, we don't have a lot of time to plan something else but we have good ideas in store for next year if re-elected. The drive-in took up a good few months of our time," Sebora said.
Senior prom being able to take place is almost metaphorical, showing that there is a light at the end of the tunnel, despite all the previous difficult months. It shows that we can move forward as a community from a year of loss.