The Fitness Center: Improving Health at State High
With a newly renovated school building, State High has been given the resources and opportunity to create a state of the art fitness center for the use of students and faculty. The woman leading the way in shaping the Fitness Center and Fitness Club program is fitness coach Diane Swauger, who has done much to improve it over the past 11 years. 
The Fitness Center is State High's weight room, which is free to anyone at SCASD. It includes a dumbbell rack, machines, cardio equipment, barbells, benches, squat racks, a cycling room, a miniature turf, and plenty of opportunities. 
The first step for using the facility is to get certified. The certification process is very simple and accessible to students of all grade levels, and is either offered in P.E. class or offered in certification courses taking place after school.  For 8th graders who plan on playing a fall sport, a pre-certification class is offered the summer before freshman year. 
After gaining certification in the proper way to use the weight room, students are ready to go and make the most out of it. The fitness center can be accessed through a variety of ways. It can be used by scheduling any of these P.E. classes: Wake-up P.E., Wake-up Fitness and Exercise Science, Select P.E., or Fitness and Exercise Science. 
If a student's schedule is full and they don't have time in the school day, the Fitness Center is open after-school from 3:45-6:30pm. To go after school, students must complete the after-school usage form, new permission form, and club form. All of these can be found on the Fitness Center website. On arrival, it is also important to make sure to bring a student ID to sign in.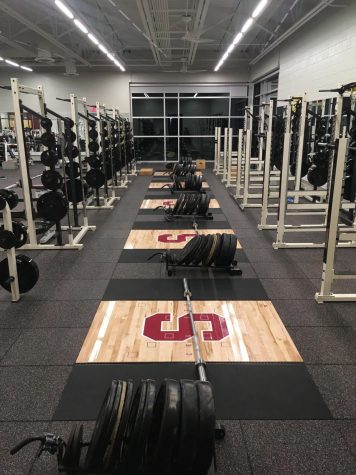 Swauger is not only the Fitness Center supervisor, but she is also a USA Weightlifting Level 1 coach and certified fitness coach. She has invested a lot of time in the fitness center and club; 11 years to be exact. 
"I've been here a while," Swauger laughed. Swauger knew that she wanted to pursue a career as a fitness coach ever since she was a college student-athlete. "My sports taught me about teamwork, how to handle victory and defeat. The later I got in my career as an athlete, I saw how much fitness in general, specifically the process, planning, and follow through, is the same and that meant EVERYONE could grow from the experience," Swauger explained. "Also with keeping physically fit, it can help with mental and emotional 'fitness' as well.  So I decided I wanted a job where I could help others challenge themselves and build lifelong good habits and help people have the best life has to offer."
During State High's renovation period, the Fitness Center was in the back of the North building in a tiny, stuffy garage. Though students were happy to have any sort of weight room, when the new one finally opened up, they were ecstatic. Now located in the back of the South building above the auxiliary gym, the new fitness center is ready to cater to the needs of students. Some of the upgrades included air conditioning, new monogrammed dumbbells, a layout that is easy to navigate, and a beautiful view of South Track. 
"When alumni email me or visit me to let me know that they've found a home in the Fitness Center, I feel like my job is so rewarding. If I'm able to help provide a good environment for students that makes them happy, then I think there's something to be said about that. I'm thankful that students can find their niche here," said Swauger. 
Another more underground aspect of the Fitness Center is the always evolving Fitness Club. Fitness Club is a less restrictive school club that promotes fitness for all members and connects those members through their similar goals. Whether it be an interest in bodybuilding, weightlifting, running, or a general interest in health, Fitness Club can cater to anyone. 
"My philosophy is that fitness is a personal journey, and to pin it down to be about training for a sport or training for body building really excludes everyone else," Swauger said. "It's really a way to bring those interested in fitness together."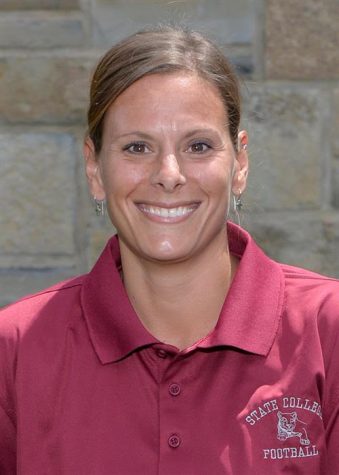 The club is just getting started this year and is still deciding about meeting times, but in previous years, they were typically held once a month. For those who are interested in signing up or running to be an officer, more information can be found on the website(https://www.scasd.org/fitnesscenter) or on @scfitnessclub on Instagram. 
Not only is the Fitness Center a welcoming place for all students and staff, but it undeniably has a large impact on the athletic programs at State High. All athletes are invited to use the Fitness Center with the collaboration and guidance of their coaches and Coach Swauger. There is undeniably a huge opportunity to further athletic abilities, get ready for the season, and stay healthy throughout the season. 
"The resources we have in the State High Fitness Center are incredible," senior Sierra Grande, a student-athlete on the field hockey team and member of Fitness Club said. "We have access to great equipment, structured workouts and also an amazing strength and conditioning coach.  Having a weight room like this as athletes helps us effectively get stronger so we can improve better on the field.  
The State High Fitness Center is a state-of-the-art and free facility to all students who would be interested in using it. "One of my favorite aspects of teaching is when students learn a new skill and you can see their face light up with joy and confidence. You can't buy that feeling in a store," Swauger said. Any sort of fitness goal can be accomplished in the Fitness Center, no matter how unique it may be. 
If you have any other questions, feel free to check out the fitness center website at https://www.scasd.org/fitnesscenter, or contact Coach Swauger at [email protected].