Carrie Underwood Makes a Comeback in State College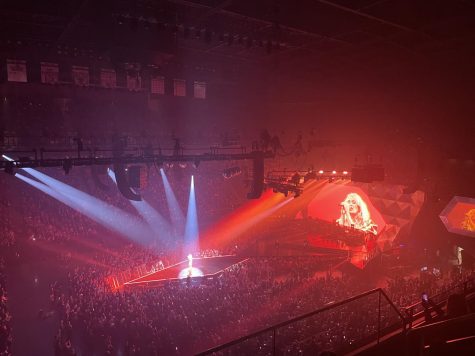 On Feb. 10, 2023, Carrie Underwood – a returning performer to State Colleges BJC, StageCoach Festival performer, 8-time GRAMMY Award winner, and 3-time ACM Entertainer of the Year – performed at BJC once again. 
Carrie Underwood is a classic pop-country superstar. She has made presence in State College across the last two decades: in 2009, 2012, and 2016. 
After making her appearance at the BJC last Friday, many mentioned how outstanding it is. Fans went crazy when she began the concert with special guest, Jimmie Allen. Then, Carrie Underwood came on stage, and opened with "Good Girl". 
SCAHS junior, Carly Erickson, attended the concert and was hoping she would sing some of her favorite songs. Erickson mentioned, "I would hope she sings 'Before He Cheats'. I don't know a ton of Carrie Underwood songs, but that's the one I know most." 
As Underwood made her debut, she performed many many songs from her new album, "Denim and Rhinestones". Underwood got the fans going as her voice radiated in the BJC arena. "I've only been to one other concert so I'm excited to see another one, and I've heard she has fun concerts," Erickson exclaimed. 
The tour will be making stops in 25 U.S. cities during the second leg, and she will perform at the Madison Square Garden in New York City. Highlights from her concert include her hit singles, "Ghost Story" and "Hate my Heart" from her "Denim and Rhinestones" album. 
One special thing that Underwood does is, donate one dollar from every ticket sold for the tour to the Tunnels to Towers Foundation. The foundation helps Americans by providing mortgage-free homes and aiding with affordable housing. Supporting this foundation has made an impact on providing families that are struggling with housing, and Underwood believes in aiding their situations.
Carrie Underwood truly made an appearance at State College and continues to perform on tour.