Who would have known that an email sent out on Feb. 25, 2019 about rehearsing together would start one of the most well known bands at State High: Brass Rats.
Composed of Adam Hallacher, Joshua Carlson, Arlo Nicholas, Stephen Liu, Evan Baxter, Luca Snyder, Elijah Snyder, Daniel Liu, and Ryan Patcyk, this State High band has State College uttering their name when talking about jazz, funk, and pop.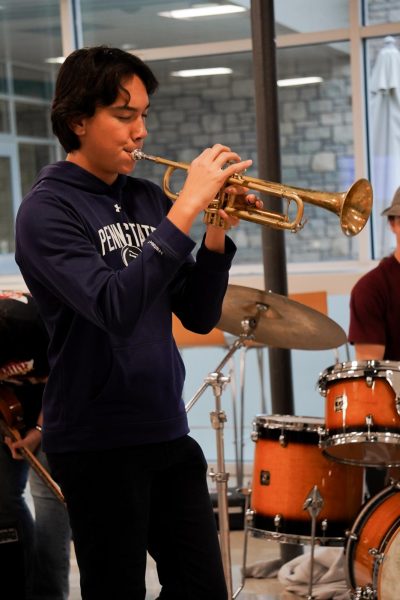 In seventh grade, Hallacher sent out an email proposing the group practice together for Mount Nittany Middle School's music program. The six original members, Adam Hallacher, Joshua Carlson, Arlo Nicholas, Luca Snyder, Elijah Snyder, and Daniel Liu performed in the central gathering area of MNMS . Since then, they decided to stick together. 
The band was heavily influenced by "Lucky Chops", a New Yorkian brass band known for busking in the subways and streets of New York City. 
"They played in the streets for money in subways in New York City, so we thought we might be able to do that here in State College," senior Adam Hallacher, who plays trumpet for the band, said. 
The band expressed their love for performing in the streets. The open, free, and casual environment is where they thrive.
"It's a very unique environment for performing […] a lot of [Lucky Chops'] skill and confidence came from performing. Same with us, we gradually got better by performing in front of a different audience every single time," junior Luca Snyder, the baritone saxophonist, said. 
Their most notable location for performing is Dr. Martin Luther King, Jr. Plaza. Their famous busking started out in this location and the band has been playing there ever since 2019. 
"For Brass Rats, MLK Plaza is kind of our home, we started there, it's our main place for busking," Hallacher said. 
"Everytime we go back it has the same smell, it has the same feeling," Luca Snyder said.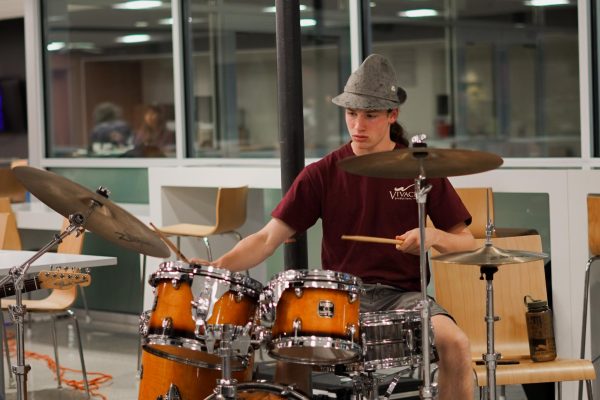 In 2019, in middle school, the band started out what they described as a 'jam band'. The six original members would get together for fun and practice as they explored music together.
Joshua Carlson, Daniel Liu, and Luca Snyder picked up the instruments drums, sousaphone, and baritone saxophone respectively for the band. 
"Brass Rats has been a defining part of my journey as a musician and to become a better musician. I never would have played the drums if it was not for Brass Rats, and I am the drummer I am now because of Brass Rats," senior Joshua Carlson said.
As for the name 'Brass Rats' itself, the six members were in an Advanced Chamber Group class together where as an inside joke everyone called them 'The Rats', and they played brass instruments so, Brass Rats.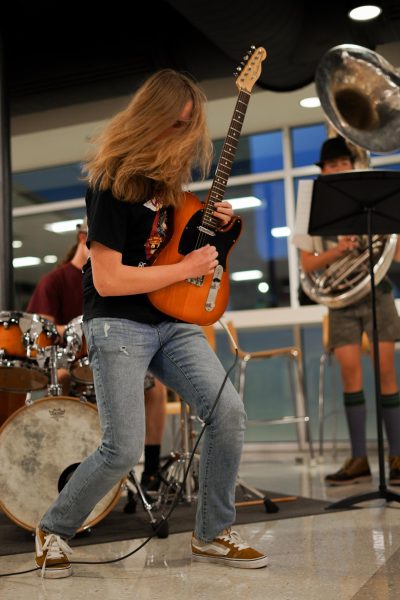 After COVID, the band was committed to weekly rehearsals and dedicated a lot of time to understanding each other musically and improving themselves. That is also when Hallacher started writing his own music and making arrangements for the band along with Carlson and Luca Snyder. 
"I started making more arrangements that would fit the characteristics of every individual player in the band, that would showcase our strengths and cover our weaknesses, which we did have as high school musicians," Hallacher said. 
One of Hallacher's most notable pieces is 'Mount Mint' which the band has played numerous times. 
"The biggest thing that I try to do in my arrangements is that every single part is catered to that specific player and not necessarily the instruments. Through the four years I've known these guys I've started to understand their playing styles much better," Hallacher said. 
"['Gonna Fly Now'], is definitely my favorite. It's a lead screamer trumpet, it plays to my strong suits which Adam picked out for such reasons," Penn State University freshman Evan Baxter, the second trumpet player of the band, said.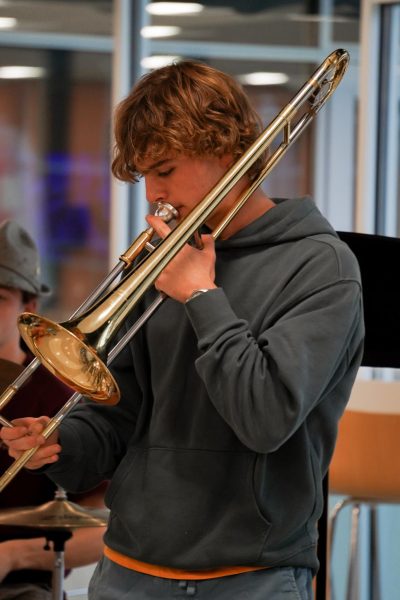 In 2023, four members of Brass Rats graduated from State High: Elijah Snyder, Daniel Liu, Ryan Patcyk, and Evan Baxter. 
Elijah Snyder, who now attends the University of North Texas, was the lead alto saxophonist before Stephen Liu filled his role. 
"[Elijah Snyder's] stage presence is insane, he was born to perform," senior Stephen Liu said. 
Stephen Liu talked about his experience when first rehearsing with the band as the lead alto saxophonist.
"One day they asked me to come in and play for Elijah. I was not in the right headspace, and playing to the standard that I expected and I almost got replaced, but I didn't and I'm here now and ready to play saxophone," Stepher\n Liu said. 
Daniel Liu, also a Penn State University  freshman, was unable to attend the interview. He is one of the original members of Brass Rats and played sousaphone.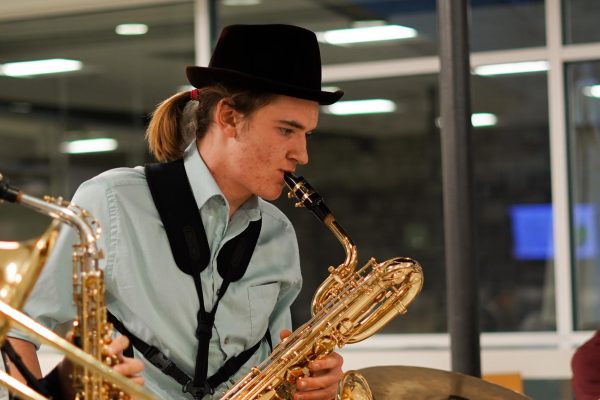 "Daniel's playing is unmatched by any sousa player I have ever met. Reliability and capability for blending have been part of his playing since I met him," Luca Snyder said. 
Ryan Patcyk joined the band as the lead guitarist last year and brought aspects of rock and roll to their music. 
"I walked in one morning and Brass Rats were playing in the hub and I went 'What the he–?!'. They were tight, they were original. I was jealous, I wished I could be a part of a band like that," graduated senior Patcyk said.  
Brass Rats has had a number of achievements that made them the band they are today. These include performing in France during the State High Jazz Bands Trip and recording an album.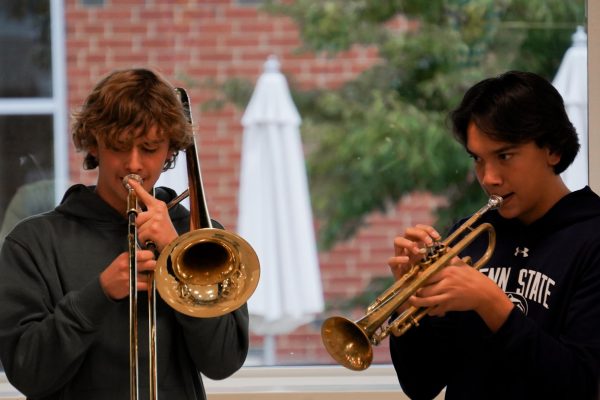 "We had the amazing opportunity when the school jazz band went to France this summer. We got to perform one song in France which is definitely my highlight, especially the crowd," Baxter said. 
"We recorded an album this summer that will be coming out in the next couple of months. It was a culmination of our band, we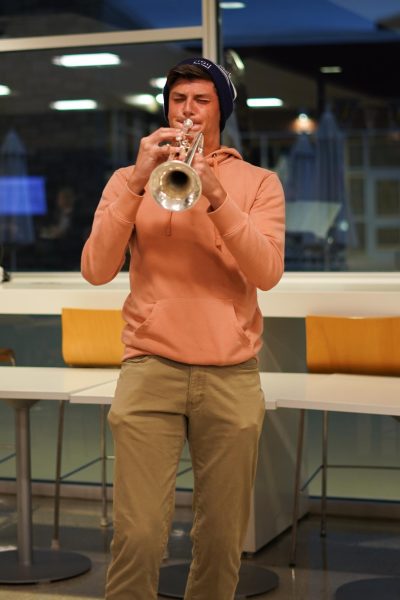 never thought we would record an album in a professional studio when we started in seventh grade," Carlson said.
Unfortunately, with four members graduating this school year, only Luca Snyder will remain as the last Brass Rats member at State High. 
"I think in terms of our existence within the SCASD umbrella, I believe that Brass Rats is coming to an end within this building," Luca Snyder said. 
However, if summer schedules miraculously line up and all members happen to be here and present, don't be surprised if the air of downtown State College is filled with smooth tunes of jazz.