A Spooky End to the Boys Soccer Season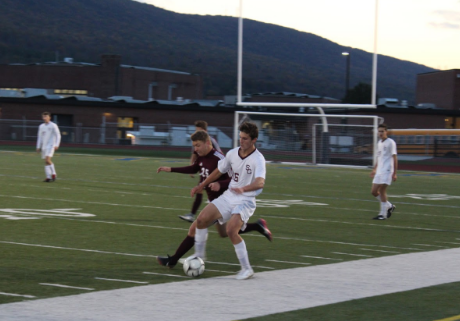 Things got spooky under the lights of Bald Eagle Area High School stadium as State College boys soccer faced off against Altoona in their district game on Halloween night. State College maintained possession throughout the game however, they unfortunately ended their season with a loss. The boys were rightfully upset, as it was their district game, with the loss as were the many State High students that attended the game. Overall, State College played fiercely against many different teams and ended their season with a record of 14-5.
The first half of the game kept fans on the edge of their seats as it was a strong fight between the two teams. State College kept the ball in the offensive zone and played aggressive defense on Altoona. Senior Jacob Whipple, who plays defense and midfield stated, "I don't think we conceded a single shot on goal for the duration of the first half." However, during the second half Altoona was able to score due to a defensive mishap. The mishap occurred when a State College player passed to their goalie and the ball accidentally went through his legs.
Even though State College boys soccer ended their season with a loss, the team was not discouraged. The game was followed by a series of encouraging words from the coaches and an entertaining game played by State College girls soccer. Many players recall the speeches from their coaches as being the highlight of their night. Whipple said, "it's hard facing the fact that I don't get to end my soccer career on a high note." The night may not have ended in a victory but it did contain lots of fun memories that the team will remember for years.
This game ended the successful 2017 season for State College Boys Soccer but they are highly anticipating an equally as enjoyable season next year. The senior players said a bittersweet goodbye to State College Soccer while the younger players are expecting many more years of fun from the team. As the team sadly says farewell to this season, the rest of State High cannot wait for the next one!