Advanced Rock Ensemble Students Shine at First Concert of the Year
The Advanced Rock Ensemble held its first concert of the year on January 10th in the State High Performance Hall. Rock Ensemble provides students with more opportunities regarding their expression in performing than other musical groups at State High. Students perform modern music and choose to play either an instrument or sing.   They danced and jumped around with different colored lights at their concerts, creating a carefree and fun atmosphere. 
"Most of the music groups at State High, from my understanding, focus more on classical music and that's one of the things that makes Rock Ensemble different.  It focuses on rock or contemporary music that you'd listen to now," junior Frankie Dorman said. "I could consider [Rock Ensemble] as a different form of expression. When you're reading classical music it's very much by the page, what's on the page is what you're doing. In rock ensemble, there's a lot more leeway for freedom of expression," he continued.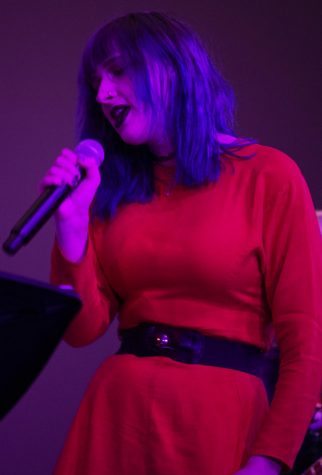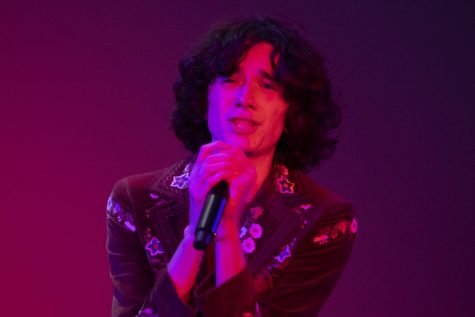 "We play rock music [in Rock Ensemble] and that's not 'normal.' It's just full of kids having fun and rocking out," junior Averil said. "It's the only [music] class I'm in right now because I'm not into 'generic' school music. We get to choose rock music we grew up listening to which is pretty cool, " she continued.  
Students feel comfortable in their own skin in Rock Ensemble, they can wear whatever they want to concerts and perform in ways that help them to express their individuality. "Because it's very individualized, you can be yourself. I wore a belly shirt so I felt very good with myself. The individuality is something that's really cool about rock ensemble,"  junior Clay Butterworth said. "When I'm in Rock Ensemble, I can be myself and everyone else agrees with it." 
"People just have fun in Rock Ensemble. People always jump around at the front of the stage and [the audience] stays through the whole concert," senior Gabe Hernández said.  
Hernández has been presented with many opportunities through his time in rock ensemble. "I'm in a band called Queen Blue and we won the Battle of the Bands, and played at Penn State's Battle of the Bands last year.  If we win next year, we'll play Moving On which would be awesome," explained Hernández. 
The concert lineup included crowd favorites such as "Take Me Out" by Franz Ferdinand, "California Waiting" by Kings of Leon, "Goodbye Yellow Brick Road" by Elton John, and "Helter Skelter" by The Beatles.  These beloved songs encouraging the audience to sing along and dance in their seats.  
One song that really stood out to students was "Freedom" by Rage Against the Machine. When Hernández, the lead singer of the song, screamed and ran around the stage, members of the audience rushed up to meet him. 
Another song that stood out was "Brandy" (You're a Fine Girl) by Looking Glass. It was a newer style for those performing but they were happy with their performance. " 'Brandy' sounded really good and we did a really good job with it," said Dorman.  
" 'Brandy' also stood out because it's unique and it's not something we would normally play. It's not our style but it worked," said Hernández.
Keep your eyes peeled for the date of the spring Advanced Rock Ensemble concert.