The SC Varsity Hockey Team Falls 4-3 to Hollidaysburg in Overtime
The State College Little Lions Hockey Team lost 4-3 against Hollidaysburg in the last few seconds of overtime on Thursday, January 23.
Robbie Zimmerman (#28), junior, scored two goals and junior Rees Engle (#72) scored one. The Hollidaysburg team scored the first two goals of the game. State High fought hard to score a goal but didn't get the opportunity until the end of the second period. With two minutes and 40 seconds left, Zimmerman scored the first goal of the game. His first goal was a penalty shot, which is a shot awarded to a team when they lose a clear scoring opportunity.
"I was excited and confident," Zimmerman said. "I came in slower than ever, faked a shot, then went wide and scored." The team erupted when Zimmerman scored, providing a sense of hope that they could come back and win. "I did my classic bow and arrow celly after I scored," Zimmerman said.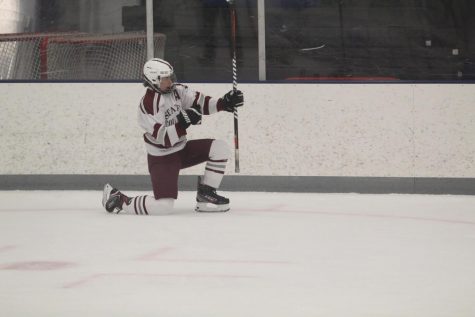 The goal sparked hope for the team now that they were only down 2-1. At the beginning of the third period, freshman Thomas Hay (#66) passed the puck to freshman Alex McGuire (#86) who passed it to Engel who scored the second goal of the game. Then the game was tied 2-2. State College scored a third goal with approximately nine minutes left in the third period. Senior Wesley Olsen (#65) passed the puck to Zimmerman who scored the third and final goal for State High. Less than a minute later Hollidaysburg scored again, tying the game 3-3. 
The tie remained during the last eight minutes of play. The game moved into overtime, and the teams fought hard during the five minute period. The game came to an end when Hollidaysburg scored their fourth goal. The Little Lions were disappointed but that didn't shake their confidence for their next game.