The History of Hanukkah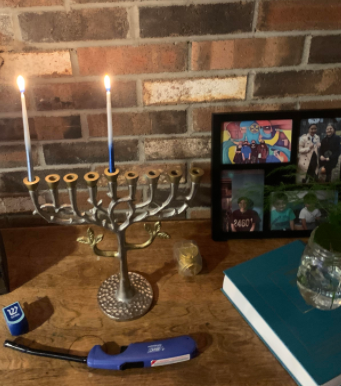 Adkins, Staff Writer
January 10, 2022
Hanukkah, also known as the Festival of Lights, or Festival of Dedication, can be spelled many different ways. While it is not a holiday of major religious importance, it has been elevated to the level it is by society because of its close proximity to Christmas. 
Hanukkah dates back to the second century BC when Antiochus IV of Rome forced Jewish people to convert to Hellenism. Judaism was studied in secret, as it was illegal. If someone came in on them studying, they would pretend to be playing dreidel, according to some.
"A dreidel is a four-sided spinning top which is played with today on Hanukkah, usually with gelt (chocolate) being used as money. We have so many dreidels, it's not even funny," freshman Eliana Kaufman said. 
Antiochus rededicated the Jewish temple in Jerusalem to Zeus, which caused a resistance movement to form, led first by a priest named Matthias, and then one of his sons, Judas Macabee. Their forces were successful, and they took back the temple. They only had enough oil to light the menorah in the temple for one day, while they tried to fix up the temple. But it lasted for eight. 
Hanukkah lasts for eight nights, with a menorah being lit each night.
"Each night you use Shamesh to light a new candle. Due to its proximity to Christmas, gifts are given on Channukkah in America," Kaufman said. "However, unlike Christmas, gifts are given each night, although families may not actually do this every night, because that's, like, a lot of presents. One night my family might get takeout, and another we'll go out to see a giant Menorah lighting at Old Main. Also, oily foods such as sufganiyot (jelly donuts) and latkes (potato pancakes) are eaten, which is one of my favorite parts of the holiday. I also enjoy playing with fire and singing songs with my family." 
In SCASD, children are taught songs from all different religions in music class. Gray's Woods Elementary has what they call the "Holiday Sing," where the entire school gets together and sings holiday songs. 
Chabad, an outreach group for Jewish students and faculty in Penn State University, had a parade with menorah-topped cars in 2020, as due to COVID, they couldn't conduct their usual in-person menorah lighting.
Hanukkah may not be the most important holiday within Judaism, and it also may not be widely recognized in State College, but it is a holiday of history and culture that is celebrated by many internationally, including citizens of Centre County.