The Making of a Musical: Behind the Scenes with Thespians
The Nuts and Bolts of Backstage Theater
Last November, students and the community watched the State High Thespians bring childhood classic novels Alice in Wonderland and Through the Looking-Glass to life in their performance of Elizabeth Swados' musical Alice in Concert. In two entertaining acts, an ensemble cast of twelve embodied funky characters from the likes of Alice to Tweedledee and Tweedledum. Carefully-painted props adorned the stage, and the cast sported hand-designed costume pieces. Not visible to the audience, however, was the behind-the-scenes creative process of the production team and student crews.
Backstage theater is an expansive world, encompassing every aspect of a theatrical production except for the actors themselves. This unseen work consists of both creative and technical elements. Costuming, hair, and makeup fall into the hands of Thespians' "pretty crew"—the group in charge of aesthetically transforming the actors into the fictional characters they portray. "Dirty crew" designs props and sets. Lighting and sound are taken care of by trained student leaders, and "paper crew" heads up all things advertising, from posters to programs. The director and producer have a holistic role, overseeing all of the show's creative elements. Together, the efforts of Thespians' self-proclaimed "techies" contribute to the visual and auditory appeals of productions and ensure that they run smoothly.
"Tech theater is a rarely-acknowledged part of the arts, but the people working tirelessly to put on these shows are incredibly talented and skilled," remarked junior Mary Lambert, student technical director and lighting designer for Alice in Concert.
Lambert has been involved in theater for around six years, working as a technician for nine shows. She has experience with scenic design, curtain and spotlight operation, stage management, and more. As student technical director, Lambert held a largely organizational role consisting of supporting student designers and troubleshooting during the show. As lighting designer, she decided how to light the actors and what colors best suited each part of the show. Lambert added that Alice in Concert's lighting design included 49 separate cues, explaining that "a cue is a specific setting of lights."
Likewise, junior Madeline High has a technical role in Thespians productions: sound designer and head of sound crew. Sound crew has two other members: freshman Luca Snyder, who High trained on the soundboard, and junior Reid, who helps High troubleshoot and prep before shows. High herself was trained on sound in middle school and has been involved in theater programs since 6th grade.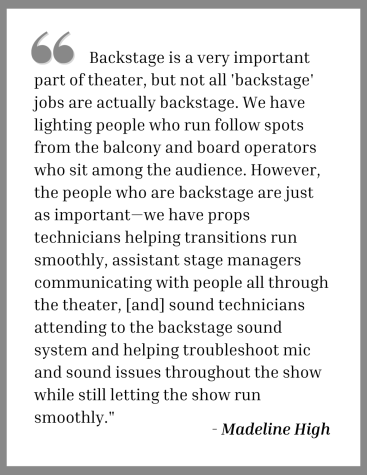 "My role in Thespians is a bunch of things all rolled into one. I train, I learn, I help the directors, I make the actors' lives easier, I assist the actors—all in the sense of sound," High explained. "But I also help with costumes and makeup in the dressing room when there is a period of waiting. A lot of my job is troubleshooting, as technology is always doing funky things."
For many of the backstage crews, whether they're working with lighting or sound, technical (tech) week is the busiest time of preparing for and executing a performance. Tech week refers to the time leading up to the musical's opening night; during this period, all technical elements come together for the first time in rehearsals that are essentially a test run of the final show.
High says that tech week is "infamously the most chaotic time in theater and the process of running a show," adding, "During this time, I was taking notes while also helping Luca in the booth and Reid backstage. Before the runs of the show, I mic'ed the cast and had everything meticulously organized. On the weekends, I came in to help troubleshoot any sound issues in the auditorium, set up fill speaks, rig anything that was needed, spike-taped the set, set up mic packs, switched any that were not working properly, and organized."
Lambert found herself busy in the days before, during, and after tech week.
"In terms of actual hours, tech week and the run of the show were the busiest, since everyone in the company barely went home that week," Lambert said. "In terms of tasks, though, the week before tech week was hectic. I programmed in all of the lighting cues over the weekend before we started, and was also trying to make sure set pieces were constructed, painted, and ready for use in time."
Delta High School senior Olivia Biever, ensemble captain for Alice in Concert, added that Thespians switched rehearsal locations from the Black Box Theater to the Performing Arts Center in that hectic week before the production, and adjustments had to be made as a result. Biever found tech week to be "challenging and extremely fun."
As ensemble captain, Biever's job consisted of helping with choreography and directing, acting as, in her words, "basically the cast mom." 
Also on the directorial crew was junior Maeve Flanagan. As assistant director for Alice in Concert, a show they described as "delightfully wacky," Flanagan worked alongside Thespians' troupe director and co-advisor Jill Campbell.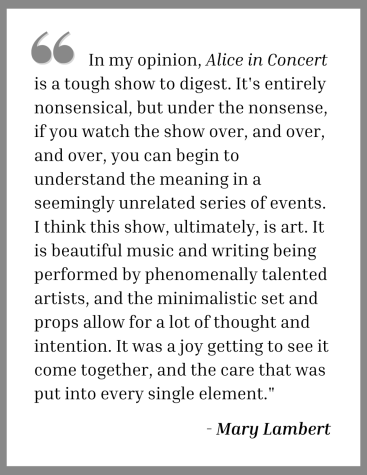 "Through my position, I got to watch the production build from taped floors to a complete set with beautiful costumes, able to put some of my influence on the show. I worked closely with the incredible cast, encouraging them and pushing them to improve to the beautiful show many people were able to attend," Flanagan said.
Biever also found that she, Flanagan, and Campbell made a great directorial trio.
"Jill really allowed Maeve and myself to leave our mark on the show. She gave us a lot of creative say over the decisions, and it really felt like a team effort," Biever elaborated.
When asked what she learned while working on Alice in Concert, Biever responded, "How much I love directing. I have been a performer all my life, and I plan to be one after college, but I really hope to continue being on the creative team."
Ava Krebs, Thespians' freshman representative, is likewise a lifelong performer who just recently found a love for the inner workings of theater. As a member of pretty crew, Krebs could often be found sitting in front of a sewing machine, working on elaborate, Victorian-style costumes. Pretty crew is also tasked with doing actors' hair and makeup before performances.
"Before Alice in Concert, I never anticipated that I would enjoy costuming so much. I had always been someone more interested in the performing aspect. The whole experience was enlightening, exciting, and truly opened a whole new aspect of theater for me," Krebs said.
Krebs sewed costumes for Alice in Concert and was on run crew during performances, meaning that she helped the actors get into costume and took care of backstage costuming mishaps. In the weeks leading up to the show, pretty crew was charged with pulling and making costumes, deciding on hair and makeup ideas, doing costume fittings, and pinning and sewing whenever necessary to tweak the costumes' fit. In theater, to pull a costume means to scour the costume shop's inventory for garments from previous shows that can be reused. One can also pull props, set pieces, and more. 
The costume shop at State High (pretty crew's headquarters) is brimming with fabric, trims, hats, and costumes from previous productions. Junior Hope Behringer, assistant to the costume designer for Alice in Concert, described the busy atmosphere felt in the costume shop as the show neared.
"During tech week itself, we were still finishing some [costume adjustments], because they were pinned and not sewn," Behringer said. "We also had hair for the first time, makeup for the first time, costume runs for the first time. And then there's always sort of that little rush before the show when everyone's trying to get everything done. And you have to flag people down and bobby pin their hair or safety pin their costume."
Behringer is the student head of pretty crew and works with Julie Snyder, adult head and the musical's costumer. The two oversee pretty crew's members of all different experience levels, meeting them where they are and helping them develop new skills. In order for costumes, hair, and makeup to come together, pretty crew members must come together as a team themselves.
"I really learned the value of teamwork," Krebs said. "It's never just one person working alone. Sure, you might cut the fabric, but then you pass it to someone else to get surged and then someone else to sew it, and the cycle continues. It's important to be able to depend on those working around and with you."
Krebs' favorite part of working on Alice in Concert was watching all of the cast and crew's hard work come to life on stage. 
"Getting to watch the performers wear their costumes and bring their characters, as well as the show, to life is so rewarding, especially with such a talented and dedicated cast," Krebs said.
Behringer seconded Krebs' statement, noting how costuming affects the cast's acting.
"Just seeing the result of all the work when the actors get on stage in costume for the first time—their acting improves. It's amazing before—it's great now with costume because it makes [the show] come alive a little bit more, both for the actors and the audience," Behringer said.
In Alice in Concert, Alice goes down the rabbit hole and through the looking glass, leaving her normal Victorian life, and comes out into the wacky world of Wonderland. Pretty crew designers aimed to juxtapose these two realms by establishing a funky, steampunk theme for Wonderland. Behringer enjoyed integrating steampunk style into costumes and props.
"It was a lot of fun," Behringer said. "My favorite costume thing that I got to design was the hatter hat. I got to take this big, black top hat, and I added a bandana, and a big orange flower, and a string of pearls, and black feathers, and it just looked crazy and fun."
While designing the show's set and props, dirty crew also worked with steampunk elements. They included exposed metal and gears in their creations and employed a muted color palette of purple, blue, silver, and accents of gold. One prop they created was a large frame placed in the center of the stage with a steampunk design on one side and a Victorian style on the other; a member of dirty crew 3D printed gears for the steampunk side.
Thespians planned to perform the musical at the International Thespian Festival, so the set had to be minimalistic and transportable. Throughout the fall, dirty crew held work days where they could be found designing, building, and painting the set and props.
Senior and scenic designer Lucy Chang designed set logistics and oversaw dirty crew for Alice in Concert. Chang did much of the detail work on the set and props. As a visual artist, she has been involved in the graphic design and set design aspects of theater in previous productions.
"We actually handmade a book with different pictures of the scenes in Alice in Concert, and it was really cool. It was our most expensive prop, and we handmade it, and I hand-painted the cover," Chang explained.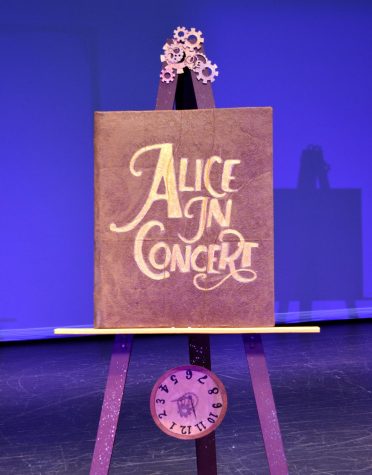 Chang added that dirty crew had to take a different approach to create the set for Alice in Concert. The team was tasked with creating a minimalist set, not only in order to take the show on the road but also to allow the ensemble production's audience to focus on the costumes and music. 
Additionally, due to Covid-19, Thespians has had to adapt their recent shows to fit the constraints and protocols the pandemic presents. Thus, it has been a while since the troupe put on an in-person, large-scale, musical with a complex, elaborate set. However, Thespians' spring 2022 show, Seussical, will make up for past limitations, and dirty crew can't wait.
"With Seussical, I'm really excited because I think the set's going to be pretty extravagant, which is a stark contrast from Honk and from Alice in Concert," Chang said. Seussical is set to open on March 31; Thespians is already hard at work with auditions complete and rehearsals underway.
No matter the show, Thespians puts on an artful, creative production that wouldn't be the same without the combined efforts of the actors on stage, the designers in the costume shop, the techies at the light and sound booths, the builders in the set workshop, the advertisers organizing and promoting, and the directorial team hard at work behind the scenes.