Revisited: The Top Four Bubble Tea Spots in State College
In the three years since we last reviewed State College bubble tea, a lot has changed in the town's boba-conomy. When we first wrote our article, Cafe Wow took first place, Kung Fu Tea, second, and Momotaro and Tea Time rounded out third and fourth. 
However, Tea Time closed in 2021, and Mr. Wish recently took the spot of the old Metro on East College Ave. With all these changes, State High Journalism found it necessary to update its previous boba ranking. So, without further ado, here are the new and improved rankings of the best bubble tea shops in State College. 
4. Kung Fu Tea
Kung Fu Tea, nestled among the buildings on Beaver Avenue, is one of the 200+ locations of America's largest made-to-order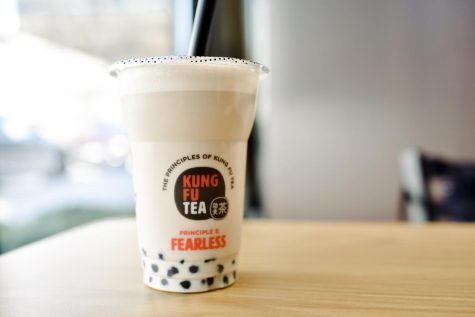 bubble tea brand. The Kung Fu Tea menu specializes in a wide variety of drinks, ranging from a classic milk tea to a refreshing punch or slush. Despite the variety, the Kung Fu Milk Tea, made with a green tea base and milk powder, and often paired with boba, remains a bestseller.
Upon first glance, we were pleasantly surprised by the Kung Fu Milk Tea. The cup had been upgraded, with the cup sporting an ice-cream cone-like shape and a dragon illustration. But after taking a sip, our hopes fell through. While the green tea flavor was strong, it wasn't necessarily a flavor that seemed to pair well with the milk. Ultimately, the Kung Fu Milk Tea came across as watery rather than rich or smooth. As for the boba, it was perfectly chewy, but we were disappointed with its tastelessness. Moreover, at $5.72 ($4.75 for the medium milk tea, $0.65 for boba, and tax), the Kung Fu Milk Tea ranked as the most expensive drink we tried. Suffice to say, Kung Fu Tea wasn't worth what we paid.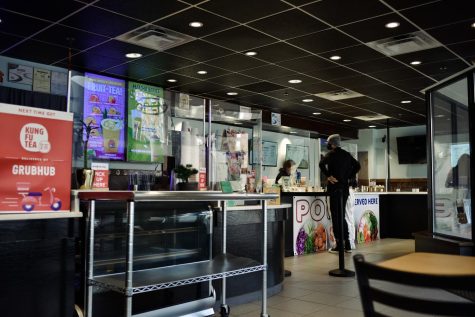 Kung Fu Tea's environment didn't exactly help. Enclosed in a small and dark room with nothing but soft music in the background, we felt stifled by the awkward atmosphere. If you're looking for a place to brood and sit in silence while drinking your tea, Kung Fu Tea may be the place for you. 
Kung Fu Tea may be one of the most popular boba chains in the US, but we couldn't quite find a reason why. If you're looking for a boba place in State College, we'd recommend sticking to the other spots on this list. 
3. Cafe Wow
Cafe Wow, which ranked first in our 2019 list, has been beloved among State College boba-drinkers since its opening in 2015. The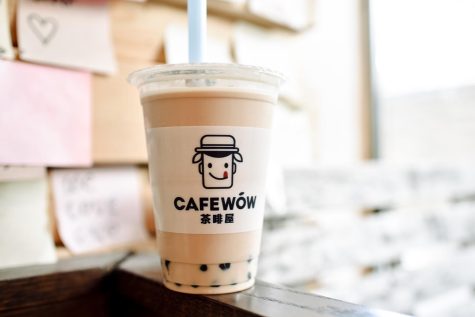 shop is located under Urban Outfitters on East College Avenue. While small, Cafe Wow has a large range of milk teas, fruit teas, and special drinks to order from. Among Cafe Wow's most popular drinks are the brown sugar milk, the taro milk tea, and of course, the original milk tea, which we tried. 
The first impression of Cafe Wow's original milk tea is a strong one. Its packaging is simple but cute, with its iconic mascot adorning the side of the cup. While we loved the packaging, the tea wasn't quite what we remembered. The black tea flavor was weak at best, and the tea was smooth but slightly watery. The boba had little bounce and was flavorless save for a little sweetness. Coming in at $4.51, it's the cheapest one on this list, and you get what you pay for. 
As for the environment, Cafe Wow is well-lit and has a range of seating areas. It's home to the iconic sticky note wall, which is covered in dozens of colorful messages and drawings from State College residents. The wall is a highlight of the cafe, and it makes the shop feel cozy. However, with the store being virtually empty during midday, it was a bit awkward for us to sit and talk during our stay. In addition, boxes piled up on some of the seats made the store seem somewhat messy.
Ultimately, Cafe Wow didn't deliver as we hoped, but it still holds a special place in our hearts.
2. Momotaro
Next up is Momotaro, the dessert cafe that opened in 2017 in the plaza next to Chronic Town and Five Guys. Momotaro is known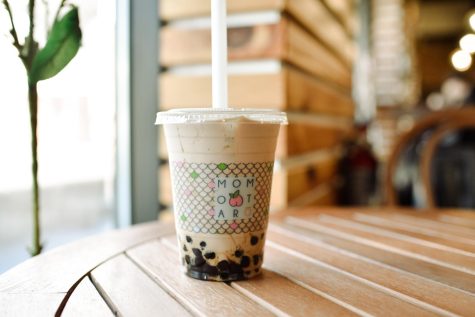 for their rolled ice cream—something we asserted the last time we checked the cafe out—but their wide selection of teas provides something for everyone. While we were left disappointed by the original milk tea in 2019, this time, our experience was quite the opposite. 
The tea was rich with a strong black tea flavor coming through. The boba itself had the perfect chewiness, but the thick brown sugar syrup coating the boba proved to make the drink a bit too sweet for our taste. We'd recommend going for a lower sugar percentage when you order. Momotaro was the second cheapest of the stores, with its original black milk tea costing $4.93. All Momotaro drinks come with one free topping, so the boba was included in this price. The drink came with a pop lid and a designated spot for a straw, making it a bit hard to share (but you probably won't be splitting one drink between two people like we did). 
As for the environment, out of all the bubble tea shops in State College, Momotaro had the best atmosphere. The lighting was bright, the furniture was inviting, and the decorations of the store made it warm. Momotaro also had a message board, which featured some interesting contributions, so to speak. 
Momotaro was strong through and through. With a wide variety of delicious drinks and an inviting atmosphere, you can't go wrong by going to Momotaro.
1. Mr. Wish 
Mr. Wish only recently joined the State College boba scene in the fall of 2021, but since then, has stolen the hearts of locals and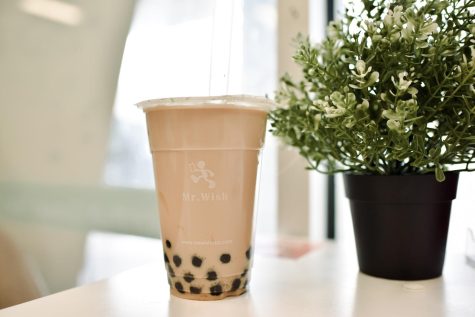 college students alike. Headquartered in nearby Philadelphia, PA, Mr. Wish advertises as the No. 1 Fruit Tea Franchise from Taiwan. They use fresh seasonal fruit in their fruit tea and smoothies, making these some of the most popular customer choices. Yet, as we discovered, their excellency extends to their milk teas as well. We tried the Pearl Milk Tea, which is their Black Milk Tea with boba. 
The tea quality of the Pearl Milk Tea was, put simply, perfect. The strong but sweet flavor of the black tea complemented the milk well, harmonizing to create a rich and creamy texture. If there was one thing we could change though, it would be the boba. While the boba was still good, it was a bit too soft for us. The price of Mr. Wish's Pearl Milk tea was $5.04 with tax, making it the second most expensive of the drinks we tried, but it was worth it. 
The atmosphere was wonderful, with games and a wish tree (that actually works!). Mr. Wish shares a space with Aone Market and Hibachi Express, so you can browse the market while waiting for your drink to come out, or grab a bite to eat alongside your drink.
While Mr. Wish is relatively new to State College, it has quickly become a favorite among local boba-enjoyers, and not without good reason. Mr. Wish boasts a wide variety of drinks and has something for everyone. If there's anything we'd warn you of though, it'd be to stay away from the avocado smoothie (it's an acquired taste).