Ramadan at State High: Muslim Students' Challenges and the H.O.M.E Office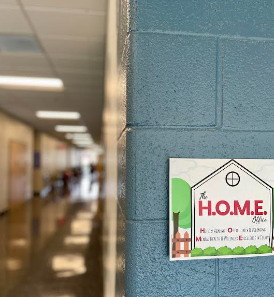 Ramadan is a month of great importance to Muslims all around the world. It's a time of prayers and fasting, where one goes through a practice of self-discipline. Following the Islamic calendar, Ramadan is held at different times every year. This year, Ramadan started on Mar. 22 and will be coming to a close on Apr. 22. 
Freshman Zauima Samoori, strong-minded and willing to share her culture as a Muslim student, said, "[Ramadan] is my favorite time of the year!"
Eid al Fitr is one of the major holidays celebrated by Muslims all around the world and it marks the end of Ramadan. It's a time when everyone can take time off from work to relax, eat, and spend time together as family. Different nationalities eat different foods. For Samoori's family, they have a big meal and Rooh Afza – a red-colored drink made from different herbs and fruits. They also like to eat samosas with fillings ranging from cheese to chickpeas. "I'm Pakistani, so we eat a lot of Pakistani cuisines," Samoori said.
Abdullah Rana is another Muslim student very excited about Eid. "My mom makes these things called Chicken 65 with naan and I'm gonna make bread buns and glaze them with honey butter," he said.
Being Muslim is not just belonging to a religion and culture, it's also adapting to a specific lifestyle. As a Muslim student attending a primarily white school, Rana deals with everyday struggles. "You just have to base your schedule around the prayers. In the mornings, I have to wake up really early and before I go to bed, I have to remember to pray," Rana said. 
Muslims are expected to eat before sunrise and after sundown. That means waking up as early as 5 A.M. on school days and not eating till 7:30 at night. Jana Albalushi, a junior, said, "During Ramadan, it's hard to do my homework when I have so little time to focus on praying and other types of worship." 
Albalushi grapples with not getting enough rest too. "Not a lot of people get how it's like when we tell them that we're tired," Albalushi said. 
In similar sentiment, Samoori said, "It's just going to become more stressful. Because you need your sleep, but tests will continue to come–no one is going to excuse you from that." What makes it difficult is the restrictions that the students face and the tight schedule that the school runs on. "For me, I get a lot of headaches because I don't eat. So it's hard to work sometimes. And the lack of sleep ruins my schedule for school," she said.
To support students during Ramadan,  State High H.O.M.E office is there for students that need mental health support. Allison Lutschanuig, is the office secretary of the H.O.M.E office. She works with students for wellness check-ins. "Cultivating that safe environment for students as the front desk person," Lutschanuig said. 
At the H.O.M.E office, they strive to work through challenges that different students face. 
"We can offer belonging as well as opportunities, so we have certain affinity groups and Mental Health Matters clubs for students to get involved with their own mental health and to make friends in this community," Lutschanuig said. 
The office was mainly created to keep a safe space for students of all backgrounds. During Ramadan, the H.O.M.E office can make space for Muslim students by using their conference rooms or the offices that are blocked off. Students practicing Ramadan are welcome to come down to pray or take the space. Lutschanuig said, "We want to make sure that [Muslim students] have that option because we understand that the school isn't necessarily built for their needs. So we want that open space for them."
As students of the religious minority, Muslim students encounter continuous daily struggles that go unaddressed. It is important to be sensitive to the needs of these students within State High. The H.O.M.E office is a place that offers accommodation to students' needs. Though not many students know of the H.O.M.E office yet, Lutschanuig hopes that more people will get to know of the opportunities presented to them as the H.O.M.E office grows in influence.