On Oct. 3, fans flocked to The Pavilion At Star Lake for Lana Del Rey's second to last concert of her tour. It was her first show in the Pittsburgh area and proved to be a success, drawing over 22,000 people from all over the state and beyond. 
Lana Del Rey, a 38-year-old American singer, debuted her first single "Video Games" in 2011. Since then, she has become an icon in the alternative pop community, known for her vintage Americana aesthetic and melancholy songs that explore the human experience.
Del Rey's deep voice sets her apart from other musicians in the same genre. For Via Helling, a State High student that attended the concert, the unique sound of Del Rey's voice is what draws her to her music. "I think that her voice is just so angelic and her music's so catchy. And when I listen to her, I just feel like good energy," Helling said. 
Jackie Eveleth, State High student who attended and has been a fan since the beginning of middle school, loves her for similar reasons. "I feel like I'm able to connect to her music and lyrics personally and I'm just in love with her music and vocals," Eveleth said. 
Another reason that fans love Del Rey is because of her personality. Anna Herickhoff is another State High student who also attended.
"Obviously, I love her music," Herickhoff said. "And she's just like, I just think her actual self is- she's just really funny. And I feel like she's way more down to earth and stuff, like you know how she worked at Waffle House and stuff. That was so funny. And like, her music is just so good. It's just the best."
Whether fans had enjoyed her music for a few months or years, anticipation was high in the days leading up to the concert. In preparation, Helling's friend group went thrifting to find outfits that represented Del Rey's albums. Helling, Eveleth and Herickhoff described being excited and in disbelief. 
The concert covered songs from seven of her nine albums from 2012 to the present. Herickoff described how hearing a song live can change your perspective on it. According to her, Del Rey created an experience that made fans see songs in a different light.
"I love all her songs. And it was like, kind of, I don't know. It's interesting to hear somebody play live," Herickhoff said.
"Because I feel like I could like the recorded ones but then when you actually hear it played out loud. […] So some that weren't necessarily my favorites ever were so good played live. And so I think my favorite one she played live was "[Did you know that there's a tunnel under] Ocean Blvd". And she played at the end. Everyone had their flashlights out."
One of the main reasons Del Rey has become so successful is the emotions that her music evokes. The same emotion from the studio recordings of her songs transferred to the live performances. Helling was especially emotional when Del Rey played her favorite song. "I actually cried one time when she was playing Chemtrails [Over The Country Club]. And then all throughout the concert, I was just smiling the whole time," Helling said. 
Herickhoff had the same feeling. Like any artist, Del Rey's music has significant meaning to many. "When she came out, I was in shock.The opener had opened up and it was like, an hour. So we had to wait a really long time to see her. And so I was just really excited to see her and I was like, 'Oh my God, I can't believe it's actually her'. And then I got emotional because I literally have liked her for so long. And so it was really cool to get to see her in person. And then towards the end- it was just so good. At the end, I was gonna cry," Herickhoff said.
Eveleth also couldn't believe that she was really seeing Del Rey. "Both [my friend] and I actually cried because of how happy and excited we were when she came on stage," Eveleth said. 
In a heartfelt speech, Del Rey expressed her love for everyone at the show.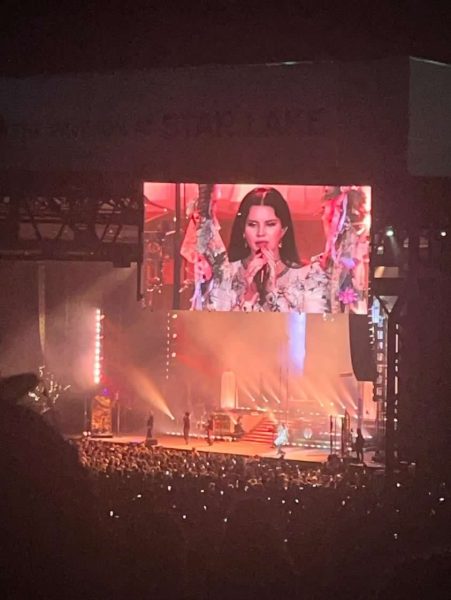 "She talked to us before she did her last song, which was "[Did you know that there's a tunnel under] Ocean Blvd". And she said, I can't remember exactly what she said. But she said something about how there were 22,000 people watching or there. And she was like, I hope all 22,000 of you have your dreams come true. And if you have any wishes that they come true and stuff. And then she just said how she loved Pittsburgh, and how we were a great audience. And yeah, it was just really sweet," Herickhoff said. 
The concert left a lasting impression that has left fans to count down the days until Del Rey announces her next tour. "I just think the whole thing was just like a great experience. I'll never forget it," Helling said.
The words of the last song echoed around the venue: "Don't you, don't you forget me". Del Rey got her wish, as her performance will long be remembered.