After a year-long hiatus, State High Boomwhackers is back and ready to make an impact in the State College music community. Formed in 2019, the group uses colorful pitched percussion instruments to create melodies as a group. Each Boomwhacker is pitched at a different note, and when hit on a surface, the note is played. 
Abby Putnam, a senior student and avid musician, can be credited with bringing the club back to life this school year. Putnam is heavily involved in the State High music community, with roles ranging from assistant drum major to choir president to Tri-M secretary and treasurer. Now she has added Boomwhackers president to that list. 
"Boomwhackers used to exist and then it took a one year hiatus and I really wanted to bring it back for my senior year," Putnam said. "I thought it would be a fun way to get music community involvement."
Even with their hiatus, the legacy of Boomwhackers endured. Students expressed how being exposed to the group in the past led them to want to join the group for their revival. 
"I saw it at a choir concert my freshman year and I was like 'Oh my gosh, I want to do that'. Basically I just saw them and I looked up to all those people and it looked really fun and they looked like they're having a great time," junior Maddie Powell said. 
Members of the group are from all sides of the State High music world. Members range from band members to choir members to orchestra members to Thespians, but the group is united by their common love for the music community and sharing their music. 
"[Boomwhackers is] very welcoming. We were all already friends before so it was an easy transition," Powell said. 
Junior Ayla Marvasti elaborated on this thought. "It's a fun place to hang out and whack things. It is kinda stress relieving and almost like therapy." 
Even with the group's open and loving environment, there are still challenges. Despite the group's wide array of musicians, no one has prior experience with Boomwhackers, so everyone in the group is learning the instrument together. 
"Everybody in the group is having the same struggle at the same time so we're all learning together," Marvasti said. 
Even with these difficulties, the community environment of the group allows the musicians to work through the challenges. 
"It's very interdependent in Boomwhackers because we are all playing one instrument together, even if you yourself only have a couple of notes," Marvasti said. "We are all depending on each other to play the instrument and it feels much more like a group thing than an individual thing, compared to any other musical experience I've been a part of." 
Putnam echoed the community feel that comes when facing challenges. "It has been very supportive when we are working through the bumps in the road," Putnam said.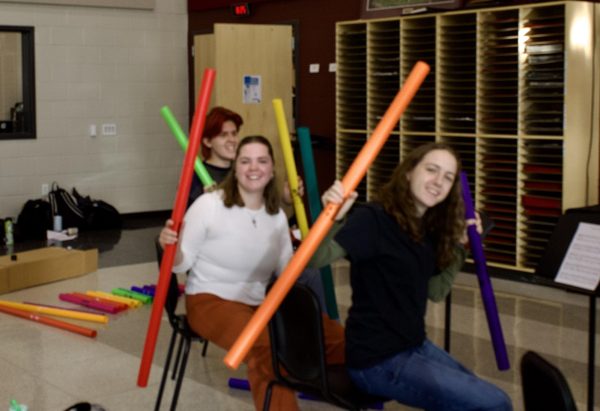 With every practice, the group grows more confident and is able to work through more and more music. Currently, they are gearing up for the Winter Pops concert on Dec. 11. This will be their first concert of the year and they are excited for more events to come. 
"We hope to continue working on performing and hopefully we can go around to different community places, such as elementary schools, and bring our music to elementary schoolers and middle schoolers to really connect the State College music community," Putnam said. 
The future is bright for Boomwhackers as they grow both their skills and their involvement in the music community. To stay updated about the group's progress and events, you can follow them @StateHighBoomwhackers on Instagram.