A Social Media Storm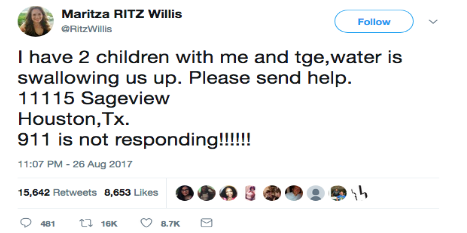 As rain poured down on Houston during the last weekend of August, people asking for help flooded social media platforms. Hashtags like #sosHarvey and #helphouston were used to notify citizen rescuers, accounts like @HarveyRescue put together databases of addresses and names of people in critical need throughout the storm.
"I have 2 children with me and tge [sic] water is swallowing us up. Please send help," a woman named Maritza Ritz Willis tweeted early in the morning on August 26. Since 911 dispatchers were not responding, she decided to share her address with her 463 followers and posted a call for help on Twitter.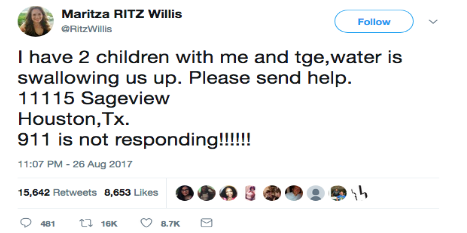 A little over an hour later, she tweeted that help came to her way. "Got picked up by the fire rescue," Ritz Willis shared. "Thank You. One of you had connections and all I can say is I'll be eternally grateful!!!"
In some cases, these calls for help went viral, attracting attention far beyond the typical call for help.
A  gut-wrenching post about a nursing home in Dickinson, Texas, showed elderly residents sitting in greenish flood water, trapped. That tweet was retweeted over 4,800 times. According to  account, the retweets helped push the nursing home to the top of rescuers priority list; all 15 residents are now safe.
"I saw that tweet almost immediately after it was posted" said Senior Harrison Randall. "I feel like if that tweet didn't go viral on twitter the situation could have gotten a lot worse, and those residents probably would not have made it out."
"Most of the time you should not share personal information like Addresses and Phone Numbers on Twitter" said Ms. Ciolkosz, the Social Media Marketing teacher at State College High School said during a class."But it certain situations like [Hurricane Harvey], I feel like the positive benefits of it will outweigh the negative benefits of it"
Even though Hurricanes Harvey and Irma caused massive damage to areas in Texas and Florida, The Power of Social Media saved countless lives that would have been lost.