State High Donates to The Red Cross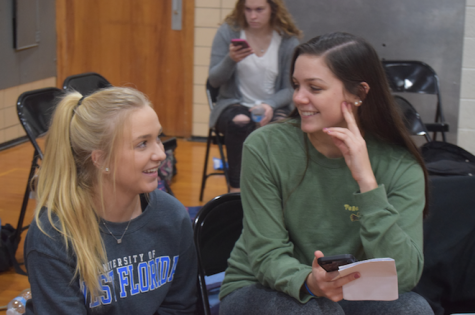 Students at State High had the opportunity to donate blood to the Red Cross through State High's Key Club on Friday, December 8th. Senior Annalia Arndt sent emails to the student body to advertise the event in addition to Key Club posters located throughout the school. The blood drive took place in the North Gym. Arndt, the President of Key Club, organized the blood drive and other students in Key Club helped with check-in, offering food and talking to students as they donated blood.
Key Club is an international, student-led organization that provides students with community service opportunities and helps members develop leadership skills in their community. There are over 270,000 members from about 5,000 clubs in over 30 different countries. A nonprofit organization, Kiwanis Club, consists of a group of local businesses which sponsor local clubs around the globe.  
Seventy-five students donated to the blood drive which exceeded the Red Cross' donation goal by seventeen percent. Many students find it important to donate blood including Connor Shea, a junior, "My blood is valuable because I'm O negative and it's nice to be able to donate it to others who need it," he said. Casey Kauffman, a senior, said, "I think it's important to donate blood because it's an easy way to help make a huge difference in other people's lives."
"So many people need it, and if you look into the statistics, one liter of blood will help three people who need it," Said Kayleigh Matthews, a senior. "It's virtually painless and doesn't take any time at all. It's been relaxing and fun! Knowing it's going to someone who needs it makes it important."
Arndt reported that the 2017 blood drive was the most blood donated from State High since 2012, and many students were turned away as a lack of space was available for donating.
After students were finished donating, they rested for a while after to make sure they weren't dizzy. They were provided with snacks, drinks, and pizza to hang out with friends and talk before they were dismissed.
Savannah Wilson, a senior, said, "The people were really nice and they recognized that I was nervous. It was really cool to have people from Key Club walking around to keep us distracted. Once they started drawing blood it wasn't that bad." Kauffman said, "The experience was actually kind of fun. It wasn't painful at all and the pizza was delicious! Also, since I want to go into the medical field, this experience gave me an opportunity to observe professionals and learn from their techniques." The blood drive was a great opportunity for students to donate their time in addition to their blood. Donations will be sent to varying locations which donors can track via the "Red Cross" app.
Students received two hours of community service for the time they spent donating. Since the first blood drive of this year was such a success, Arndt will be assisting DECA in organizing another blood drive in the spring. Keep your eyes out for an email or posters around the school so you can save a life too!