State High Girls Cross Country is Staying on Course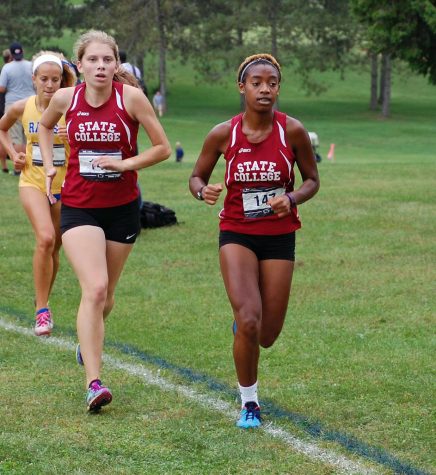 Sounds of feet pounding and loud cheers echo through the air. That means State High Girls Cross Country is back in action.
On Friday September 7, the State High Girls Cross Country team ran at the Spike Shoe Invitational. This was their second meet of the 2018 season. The team was coming off a win from their previous meet at the Big Valley Invitational. To prepare for a meet, Senior Kileigh Kane said, "I take a lot of deep breaths to calm my anxiety and make sure I'm in my own space. I try to talk to my teammates a lot just so I'm not thinking about nerves. I don't really do anything special just trying to remain calm is my only pre-meet thing."
Junior Jane Biddle also shared how she prepares for a meet. "I like to keep to myself and listen to DJ Khaled. I like to plan out the race in my head even though I never run it the way that I planned to," Biddle said. After doing their pre-meet routines the team is now ready to race.
The last time State High won the Spiked Shoe Invitational was in 2015. They were determined to reclaim the top spot this year. Just over three miles later the team captured the title and was back on top.
In Cross Country, a score is the combination of the places of the top 5 team member and the lowest score wins. The girls finished with a score of 66.  State High's top finisher was Kileigh Kane. Kane, however, had not originally run cross country. "I did cheerleading freshman year and my sister was on the cross country team. I did not want to do cheerleading anymore because it wasn't my thing, so I just copied my sister and joined cross country," Kane said.
Another State High runner, junior Mihret Strauss, found her love for running at a young age. "When I was younger at the orphanage I was from, I would run in the morning with my orphanage friends and my siblings. This made me happier and now I run because of school. When I get frustrated, running helps me and I've made more friends."
The girls also shared some goals for the rest of the season. "Hopefully running faster, and improving throughout the season," senior Emma Maras shared.
Strauss has aspirations for this season and beyond. "I'm trying to break 20 [minutes] and I hope to go to Penn State and maybe do cross country for the team."
The girls showed their teamwork, strength and determination this meet.  The team's record is now 2-0. They will next run at Chambersburg on September 18. Let's go State!