Holiday Bargaining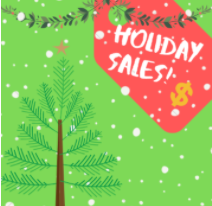 As the holidays begin, sales take off. People say it is "important to be grateful for what you have," but the day after Thanksgiving, people head over to outlets and malls to take advantage of the sales being offered. People force one another to remember what they are grateful for during the holiday season, but once stores announce their Black Friday deals, everyone's mindset changes.
Many people see Black Friday as a time to grab holiday gifts while they are at a good price. Others wonder if it should wash away due to it giving out the wrong message. "It is fun but stressful," sophomore Rachel Schwartzer said. "People get short-tempered and impatient. It kind of defeats the purpose of what you're thankful for." Many people head straight to the sales right after Thanksgiving which many are starting to believe is defeating the purpose of the holiday.
Not only does it impact people's attitudes, but it draws people away from their families and friends during the holiday season. "It's super fun, however, the fact that it happens right after Thanksgiving and not only is it tremendously chaotic, but people are working during and right after the holidays due to this," sophomore Lily Umbel said. Family is an important part of the holidays and being able to spend time with your family is an important aspect of the holidays.
Many would argue that Black Friday gives people time to save money for gifts during the holidays. "If you want a more expensive thing that usually costs a lot, Black Friday allows you to get something expensive for a good cost," sophomore Alexis Geiger said. People usually spend thousands of dollars on gifts for family and friends. The opportunity for saving money is something many can take advantage of during holidays sales and big events like Black Friday.
For many, holiday bargaining is a time to go to popular stores and get good prices on gifts for the holidays. On the other hand, many others believe that it takes away from the meaning of the holidays and how the holidays are more about thankfulness rather than consumerism.