Get Colorful With The DECA Color Run
DECA, a student-run group that focuses on career interests in marketing, entrepreneurship, finance, and hospitality, is holding a color run with all proceeds going to the Kisses for Kyle foundation this coming October. After donating $3,700 to the Anthony Myers foundation last year, they have high hopes to raise over $4,000 this year with help from State High students.  
The Kisses for Kyle foundation helps families in need of financial support due to a child diagnosed with cancer. Kyle Snyder was not even two years old when he was diagnosed with leukemia, a severe form of blood cancer. He battled leukemia for eight months before passing away. His mother, Sharon Snyder, founded the foundation in his memory in 2001. They offer support to families struggling with bills, mortgage or rent, car payments, utility bills, travel expenses, wigs, and food payments, while also taking care of a child with cancer. In addition to financial support, Kisses for Kyle donates gifts to children and families who need help being comfortable with the diagnosis. 
Students around the school have already signed up for the color run. Sophomore Meredith Sulman decided to run because she wants to help families in need of financial aid for paying medical bills. 
"I really enjoy running and it's for a great cause," Sulman said. She, like many others, has already signed up and donated to the foundation. 
The DECA color run replaced the State High showcase as the previous fundraiser. State High DECA president Leslie Powers assisted in the creation of the color run her junior year. Powers is very proud of how the color run went last year and decided to continue the tradition this year.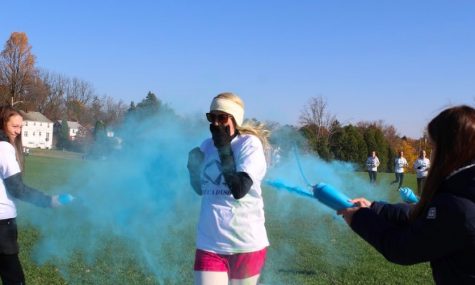 "I love watching all of our DECA members and officers come together to put on a great event," Powers said. "Personally, the DECA Dash signifies a sense of achievement, as I helped to create and implement the run." 
The color run will be hosted virtually Oct. 4 to 18. Participants must take a picture of themselves wearing the DECA color run shirt and post it on their Instagrams tagging @StateHighDECA, or send an email to Powers, [email protected]. Runners will be provided with the shirt and colored powder to put on themselves during the run. Registration is $20 before Sept. 23, then the price increases to $30. All donations are going towards the Kisses for Kyle Foundation. 
Students have been planning this color run since the beginning of the summer. Due to COVID-19, the race is being held virtually to ensure everyone's safety. State High DECA advisor Bridget Ciolkosz is always amazed by how much the students put into this fundraiser every year. 
"They start planning during the summer and give countless hours during the school year in order to make it a success. I am very proud of them and their accomplishments," Ciolkosz said. "The DECA Color Run is a great opportunity for the SCASD community to support not only our DECA chapter but an amazing non-profit organization."  
The two week time period allows runners to do the 5K to fit their schedule, allowing more people to participate. Participating in this fundraiser supports a non-profit organization that helps families in need of financial assistance with medical bills. With their new goal set and plans for the run laid out, the future is promising for the event this October.