In Response To COVID-19, Food Is Available Through the School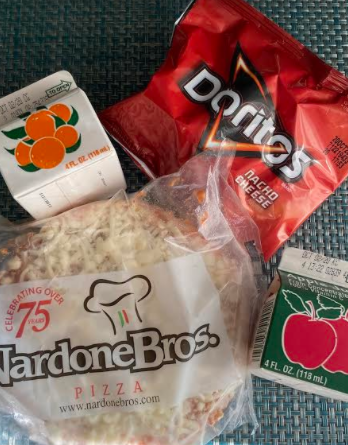 State College Area School District(SCASD) schools made the switch to fully remote classes on Sept. 8. This transition posed an additional challenge for low-income families, as students could no longer get lunch or breakfast at school. With the transition to fully-remote learning, lunches were made free. Despite the fact that students have returned to school, lunches will continue to be free through December. 
Many parents and guardians depend on school meals to ensure their children eat regularly. Because of COVID-19, more students than ever lack the means to sustain their lunches at home by themselves. SCASD Food Director Megan Schaper has focused her energy on helping these families keep their children's stomachs full. Her efforts reaped great benefits–she announced that the district would be providing free lunches to all students, despite being fully remote.
An email was sent out on Aug. 28 with information on how to order meals from home. There are different options depending on what you want to get. Options include made to order deli foods, like sandwiches. On the SCASD website, it states "Meal kits will include five breakfast entrees, five lunch entrees, fruits, vegetables, and milk. Meals kits are available, free of charge, for all children age 18 and younger." 
In order to get food to roughly nine hundred families, funding is provided by the USDA Summer Food Service Program (SFSP). Even after the district returned to in-person schooling, breakfast and lunch remain free for students.
It is a known fact that food plays a big role in how an average person's day goes and their productivity levels. Research from the Harvard Business Review shows that food has a direct impact on a person's cognitive performance. 
"I know that students miss fewer school days, are more attentive, have fewer discipline issues and fewer visits to the school nurse, and score better on tests when they have eaten a good breakfast and lunch," Schaper said. 
To find out more about the free lunches, head over to https://www.scasd.org/menus.