Centre County PAWS: A Local Safe Haven For Animals
Centre County PAWS, a local animal shelter in State College, acts as a temporary safe haven for lost or abandoned cats and dogs. Here, pets can receive necessary medical treatment, be returned to their owners if found lost, or be adopted into new, loving homes.
"Centre County PAWS was established in 1980," states the shelter's website. "For over 40 years our mission has been to Promote Animal Welfare and Safety (PAWS) with compassion through adoption, sheltering, education, and community assistance. PAWS is leading the way in building a compassionate Centre Region where animals thrive. We enthusiastically embody our four core values, which are compassion, generosity, open communication, and responsible practices."
Based on PAWS's positive public reception, such as its 4.3 out of 5 star rating on Google (derived from 256 reviews), it's safe to say that the shelter has stayed true to its mission statement. They've provided quality service and resources to help future owners adopt and raise their animal companions. PAWS nurtures cats and dogs with love and care, ensuring that whenever someone chooses to adopt from here, they would feel secure about their decision.
PAWS offers a multitude of opportunities for volunteers to help the shelter function. The duties and responsibilities associated with being a volunteer would vary from position to position.
"I am a Sunday morning shift leader on the dog side," said Alissa Hansew, a Lab Safety Specialist at Penn State University and longtime PAWS volunteer. "Dog care volunteers are responsible for tasks like walking, feeding, and playing with the dogs. As a shift leader, I have a few extra responsibilities beyond just caring for the dogs. Shift leaders communicate with each other about the dogs, and this can be anything from noticing quirks or new favorite toys, to making sure the medical team is aware of any potential medical problems."
It goes without saying that the COVID-19 pandemic has proven to be a major obstacle for many establishments, PAWS being no exception. With mask requirements, social distancing, and other restrictions, it has become more difficult for PAWS to take care of their animals and get them adopted.
"The pandemic has impacted our operations in a few ways," said Kennel Manager Mandy Lazenby. "We have had to close our doors to the walk-in public and switch to operating by appointment only. This has meant we rely heavily on virtual meetings with potential adopters, and there has been a limit to how many potential adopters we can help at any given time."
Lazenby went on to explain how PAWS has had to limit the number of volunteers who come in to help during different shifts of the day. This, in turn, has prompted PAWS to greatly reduce the overall number of cats and dogs in the shelter. Fortunately, PAWS runs a foster program in which people can apply to have their homes serve as temporary sanctuaries for the animals.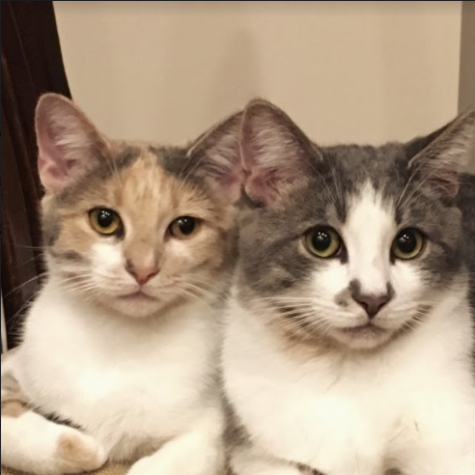 "We already had a very thorough disinfection routine in place," said Lazenby when addressing how PAWS maintains a sanitary environment, "but we have also made efforts to disinfect high touch areas multiple times a day to reduce the risk of infection even further."
Additionally, the pandemic has caused issues with PAWS getting the funding it needs. PAWS won't be able to help the animals the way it needs to without it. Luckily, the shelter has come up with some successful solutions to help remedy this.
"Event funds are imperative to providing necessary care to the homeless cats and dogs of Centre County," said Alicia Starr, the Event Manager at PAWS. "At this time, we have had to cancel all of our in-person fundraising events due to COVID-19. All of our in-person events are now virtual events. We have been able to hold our very popular Bingo nights virtually and also our annual Fur Ball event was also held virtually this year and was a major success."
These efforts to work through the pandemic's hardships and properly operate the shelter have paid off, as people can still manage to successfully adopt a pet from PAWS. 
"The staff were very helpful and friendly," said Loralie Bercel, a sophomore from Bellefonte. Her family recently adopted a little kitten that they named Pikachu. "We decided we wanted a cat over quarantine because we wanted to help out the cats without a home and also for something for us to take care of and play with with all of the free time. They did want to limit how many people came in and how many cats each person could see, so we had to schedule an appointment and say beforehand which cats we wanted to meet. Masks were required, then they took us into a separate room and let the cat in the room with us while the lady helping us left and came back after a little to check on us."
Even though Bercel's family had to go through a rather restrictive adoption procedure, they still had a positive experience at the shelter. They got to become well acquainted with their kitten safely and receive substantial support from the PAWS staff. They became more prepared to bring their new pet home.
As for what's to come for PAWS, the shelter sees a bright future ahead, especially once the pandemic eventually comes to an end.
"Thanks to strong community support, PAWS is weathering the COVID-19 storm," said Dave Abler, the President of Centre County PAWS. "Longer term, once COVID-19 is behind us, I believe that the future of PAWS is bright. We continue to advance new partnerships, ideas and solutions, and widen our community engagement, to promote animal welfare and safety with compassion in the Centre region."
The resilience and perseverance of Centre County PAWS has allowed it to continue acting as a safe haven for animals. It has remained an overall positive force in State College, bringing cats and dogs safely into the lives of their new owners.
For more information about PAWS, how to adopt a pet, how to volunteer, or support the shelter in any way, visit their website here.