NHS Brings Lion's Closet to Life
Service-minded State High students are doing their part to fulfill the community need for accessible clothing through Lion's Closet. This State High National Honor Society (NHS) project seeks to serve the community by enabling students to fulfill any clothing needs they may have. Through the work of the NHS board and its dedicated members, Lion's Closet has transformed from an idea to reality. The Lion's Closet website launched the week before Thanksgiving break, but the work did not end there. NHS believes that the Lion's Closet will be a valuable resource within State High now and into the future.
State High senior and NHS member Owen Nasal lent his time for Lion's Closet during the 2019-2020 school year, when the volunteer work mainly consisted of taking inventory of and sorting clothing donations. 
"The Lion's Closet is a largely student-run clothing drive designed to give back to our fellow community members in need," Nasal explained. "It truly is a wonderful initiative and I'm very proud of all the work that has been done, and excited for that which will be done in the future."
Many NHS members agree with Nasal's praise of the Lion's Closet, naming it their favorite service project of the club. State High's National Honor Society chapter also runs the Peer Tutoring Center, where its members tutor State High students in any subject individually and in small groups.
Jen Rand, a State High learning enrichment teacher and NHS co-advisor, recalled the origin of this project.
"The president of the high school PTA approached an administrator with the idea for the Lion's Closet two years ago. This administrator reached out to NHS to see if it was something that we would be interested in taking on — something we were glad to do," Rand said. "The Key Club was also approached with this idea and they, too, were interested in the prospect of doing this work. Last year, we organized the closet collaboratively between the two groups, which proved to be a challenge, so starting this year, the closet is run solely by NHS."
Rand emphasized that bringing Lion's Closet to life has been a community effort within the school.
"I think it's really important to stress that this project is far bigger than the National Honor Society. Beyond just the Key Club and the PTA, last year, student government and student senate also donated several thousand dollars to NHS so we could outfit the physical closet with custom-built shelving and the Roar Store has given a substantial amount of older overstock to help get the closet going," she said. "There are life skills students, along with their teachers, who help to wash, fold, and sort donations when they first come in. And last year we hired some students who are learning carpentry to build a donation box. This is truly a whole-school initiative."
The behind-the-scenes work of NHS members and others in the State High community is what keeps Lion's Closet running. Throughout the process of bringing the closet to fruition both physically and online, there have been many different tasks that needed to be coordinated in a COVID-safe way by NHS. However, their 114 members were happy to rise to the occasion and get to work.
Lauren Velegol, senior and NHS president, was impressed with how much NHS was able to accomplish together.
"I think I took a few pictures one day, maybe like ten, and then I handed it off to the NHS club, and we ended up getting hundreds of pictures in there. I think we had like 500 within a week, which was so exciting, just to go in and scroll through all those pictures. It was really amazing, actually," she said. "We just had a lot of NHS students mobilize and really help out, which is super fun."
Owen Adams, senior and NHS vice president, also noted how creating Lion's Closet has been a team effort that captures the essence of the club.
"There [have] been hundreds of hours put in by many NHS volunteers [and that] definitely embodies the NHS service aspect, looking at getting everybody involved and that kind of strengthens the NHS community," he said.
NHS members Brighid Perkins, Evie Lenze, Jessica Zajac, and Lisa Fujii have all volunteered in the Lion's Closet in various ways, and find it a fun, meaningful way to give back.
"The first thing we do is we collect all the clothes and we have to organize them and sort them by size, type, and then we have to take pictures of them to upload on our website, which we had to set up this year […] and then we pack orders and decorate bags and send them off," Perkins said, explaining the stages of work that NHS members take part in for this project. 
During the fall, there were opportunities available for NHS members to help out with the closet in person and online, making it so that anyone who had time could get involved. Before the school district went fully remote, Lenze took advantage of the chance to work in the closet during her free time in school.
"As a senior this year I have a lot of time throughout my day, like I only have two classes, so I'll go during school, and normally people come after school, so I'm normally there by myself organizing," she said.
Lenze explained that due to COVID-19, only two people can volunteer at once, with one person allowed in the closet at a time, so she is glad to be able to get in and volunteer at a time when others are not typically there.
Throughout the past months, Zajac, a senior, has worked in the closet to fold and organize clothes and take and upload pictures for the Lion's Closet website. She is excited to move on to the next stage of the process.
"I'm looking forward to bag packing […] because it's more of the hands-on process of actually giving the clothes to the person who is needing them. So I think that's really rewarding, getting to see how many orders we actually have and how we're able to help people in the community for no charge to them," Zajac said.
Fujii, a junior, has enjoyed volunteering in the Lion's Closet and is proud of the impact the project has on the community.
"I think it was, like, a really cool experience […] because I've never been a part of a club like that [or] a committee like that," she said. "I think it's nice, you know, to just be able to use your time and know that this is going to help out people who need clothes."
On the NHS board side of the project, the work looks a little different. Velegol was instrumental in the e-commerce side of things, while Adams headed up work in the closet itself.
"My job mainly this year has been overseeing the closet logistics, like physically what's happening there, and it's been really cool to see [it come to life]. 'Cause like at the beginning of the year I came in and there was just clothes kind of thrown all throughout the closet […] but a month later seeing all the clothes sorted and all the clothes photographed–it's just been really cool to see the developments we've made this year," Adams said. "I do a lot of the scheduling stuff, like there's a Google spreadsheet that I update weekly, I keep track of what orders have come in and I update that on another spreadsheet, I think about ways to […] make volunteer work easier, try to streamline those processes. And then along with that, kind of in each stage we're working on, I try to do some volunteer work as well so I worked to do a little bit of clothes-sorting, picture-taking, and then also bag-packing, because that way I have a better idea of what the volunteers are working on, so I can help that process just be easier for them."
Lion's Closet has faced its share of difficulties, many of them due to the COVID-19 pandemic. Technical issues with the website, clothing distribution dilemmas, and COVID safety logistics were some of the roadblocks that the NHS board faced.
"One of the challenges was COVID and making sure that we were still able to keep the closet running," said Lauren Lieb, senior and NHS secretary. "At the beginning of the year, we actually were like, 'I don't know if we're gonna be able to do it!' and it was kind of […] in limbo for a little bit there […] but we had some really dedicated people who really wanted to see this come through and we worked really hard to get it to where it is and I'm really glad that they put in all that effort and help because […] we definitely wouldn't have gotten here without that kind of dedication."
Commitment to the project was seen in Velegol, who experienced and overcame the challenges of running an e-commerce site. She created the Lion's Closet website, where students can order gently-used clothes for free, because the pandemic presented the need for an alternative to in-person clothing selection. Now, instead of coming to the closet to pick their clothes, students order through the website and NHS volunteers gather and package their items for pickup at the main office. The website can be accessed by searching "SCASD Lion's Closet" in any browser.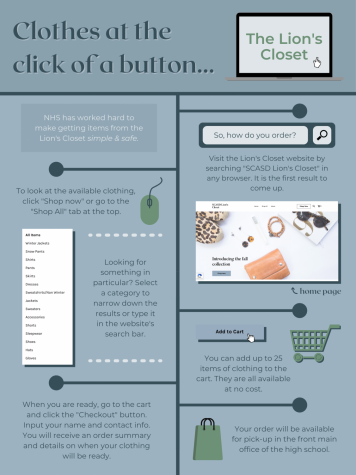 "This year was the first year of the website launch, which was definitely a very hard process, and there were a lot of kinks that we had to work out. Even after our launch, we had a lot of major issues that we're still dealing with, like for example, 'how do we delete off of the website once they're purchased?' because Weebly doesn't have an easy way to do that," Velegol said.
The NHS board was able to solve the issues that arose, and Velegol concluded that all things considered, working on the website was fun and simpler than expected. 
"Overall, it was much easier than I thought to get basically a store launched. I mean, that's what this is, […] students are shopping on our website, doing orders, and then picking up these orders. So we're functioning as like a school store, but an online school store, which is I think even harder," she said.
Velegol was also pleased with how quickly the website took off.
"Seeing how many – first of all – items we were able to have donated and just seeing that come to life online was super cool. And then the other thing that obviously I'm excited about is how many orders we received immediately. It was just super exciting to know that NHS has made a difference in our community," she said. "On our first website launch day I was expecting one or two orders, and we ended up having, like, 25 or something!"
Adams said the timely difference the Lion's Closet makes sets it apart from other service initiatives.
"I've been involved in a lot of NHS projects and they're all really, really great, but I think the Lion's Closet is unique in the actual immediate impact that it can have on the community because there [are] so many people that might be struggling financially, and winter clothing is something that all students should have and shouldn't feel left out because they don't have it," he said.
In the end, serving the community in such a meaningful way is what makes this NHS project fun to be involved in. 
"My favorite part is probably seeing orders get filled and knowing that they're going out to families," Lauren Lieb said.
Looking back, NHS members recognize that the closet has come a long way and are proud of the progress they made. Together, they brought Lion's Closet from a messy room full of donated clothes to a functioning online store that provides for community clothing needs — during a pandemic, no less. The closet's success can be seen in the numbers: 40 orders amounting to approximately 200 items of clothing have been placed in the closet's first month of online operation. These results surpassed NHS' expectations. The club is thrilled with the Lion's Closet's instant success because it means that their hard work is having an impact on the community and is fulfilling a real need for clothing.