State High Thespians Present "Seussical" the Musical
State High Thespians unveiled its spring 2022 production, "Seussical," at the State High Performing Arts Center on Thursday, Mar. 31. This is State High's first production of the show since 2007, when Thespian Troupe Director Jill Campbell last directed it. 
The show features characters from a variety of Dr. Seuss stories, but primarily follows the stories of Horton the Elephant and Gertrude McFuzz, as Horton is tasked with protecting not only Whoville, but also an abandoned egg. Woven into the stories of Horton and Gertrude McFuzz are the adventures of various other characters from the Dr. Seuss stories, like The Cat in the Hat, Jojo, and Mayzie La Bird. 
Senior Nora Goudie, who plays one of the Bird Girls, discussed her excitement for the show. 
"[Seussical] is all the whimsy that "Alice [in Concert]" brought, but it's also more marketable, and I think more people will come see it. It's super fun, there's something for everybody in it—dancing, acting, singing. There's a bigger cast which is always nice, because we get to have a ton of fun all together," Goudie said. "In Seussical, there are some really great themes that are really applicable to our world today, and they bring it to an audience in a really fun and palatable and easy-to-watch way."
Both Goudie and Campbell noted the accessibility of the show, and how "Seussical" is a production that individuals of all ages can enjoy. Campbell shared that the thing that she loves most about the show is "how much heart it has." 
"It's really how just wonderful that heart is of Horton, who just, through thick and through thin, you know, stands there and takes care of that egg. No matter what happens to Horton, [he] is very trustworthy and very committed to being there for a group of people he doesn't know and can't even really see, only hear," Campbell said in an interview with Lions' Digest. "And [Horton remains] protective, no matter what outside forces are trying to keep him from doing what he feels is right and what he needs to do. And I love that about the show, I love the heart of it."
The themes of self-love, friendship, family, and community are what form the heart of "Seussical" and make it such a beloved show. Beyond the themes of the shows, many of the characters and the lessons they learn resonate with audiences. Senior Emily Stoller, who plays Gertrude McFuzz, shared how she thinks her character may be someone that audience members can easily identify with.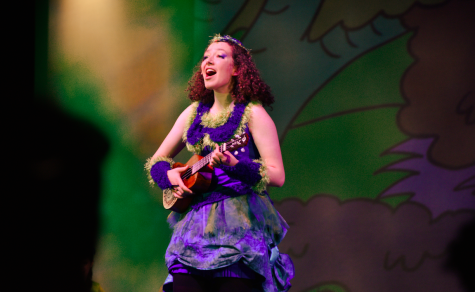 "[Gertrude] is really awkward and weird and very determined in strange ways, and I think I kind of relate to her in feeling like 'Oh, you want this thing so bad but sometimes you're not gonna get it,'" Stoller said. "She really seeks that acknowledgment that everyone wants from the people around them, and the extent to which she goes in order to get that acknowledgment may seem a bit crazy, but I also think she's a character that's really easy to empathize with because we've all had that want to just be acknowledged by our friends and our peers." 
Gertrude McFuzz, one of the main characters of "Seussical," struggles with her secret love for Horton, who she's worried will fail to notice her because of her lackluster tail. She eventually comes to learn that being her authentic self is the key to true happiness, which is just one of the many lessons that the characters in "Seussical" come to understand and share with audience members. 
Joining the Thespians is the by-audition pit orchestra, which will perform the score of "Seussical" during all shows. Senior Nika Kello, who plays the clarinet, talked about what her experience in the pit has been like.  
"This will be the fifth pit that I've played in during high school, and while I've loved them all, 'Seussical' has definitely stood out to me in a way I didn't expect," Kello said. "There's never a dull moment in the 'Seussical' pit. And even though we've obviously rehearsed this show several times, something about the whimsy and the lightheartedness of the score and of the plot of the show has just kept it incredibly fun." 
The music of "Seussical" mirrors the show's fun and whimsical nature and completes the experience of the show. The pit, alongside the cast and crew, has worked to bring the stories of Seuss to life in a way that not only stays true to the original stories, but reimagines them. 
"Seussical" will be running through this Sunday, April 3. Tickets can be purchased here.