Attending the Forensics New Member Meeting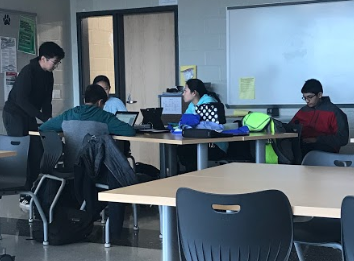 Rena Li, Staff Writer
October 9, 2019
The beginning of the school year is a busy time for students, and for the multitude of clubs that exist at State High, it is no different. While students adjust to the first few weeks of school, clubs diligently begin their preparations to attract new members to their meetings. A club's first meeting of the year is an exciting time — the hours of planning to ensure the meeting goes off without a hitch are finally rewarded. As the Thursday, September 12th school day drew to a close, those rewards were exactly what the State High Forensics Officer Team looked forward to during their new member meeting.
The Forensics Officer Team watched with pride as students trickled into the C100 open classroom after the bell, eager to introduce the club to new faces. Iris Li, a senior and the president of  Forensics Club, was especially excited about the turnout.
"Forensics has helped me develop my own voice, both physically and metaphorically," Li said. "Now, it's exciting to help people discover what they want to become and help them get there." The meeting started off with general officer and club introductions. The officers previewed the forensics season, covering important registration and tournament information. After these introductions, the new members were split into three rooms for speech and debate event introductions.
The State High Forensics Club is composed of three branches: speech, debate, and mock trial. Although Mock Trial does not accept new members to their team during the school year (selection takes place during summer tryouts), new Forensics members were introduced to speech events such as prose, poetry, humorous interpretation, dramatic interpretation, duo interpretation, extemporaneous speaking, original oratory, impromptu, and declamation, and debate events such as Public Forum, Lincoln Douglas, and Congress. Each branch of Forensics teaches confidence, analysis, research, public speaking, diction, memorization, acting, and quick thinking — skills important for future success.
The event introductions engaged many new members and especially struck a chord with Daniel Mao, a freshman who attended the meeting.
"I was interested in debating and wanted to improve my social skills," Mao said. "At the first meeting, I was surprised at the amount of people that went. The leaders explained the interesting speech and debating events well."
The next Forensics Club meeting will take place on Thursday, September 25th in the C200 open classroom. Students should have an idea of which speech or debate event they want to compete in for the year and expect to explore those events during the meeting. September 25th will also be the first full member meeting, meaning that new members will meet and practice alongside returning Forensics members. Wenjun Leng, a junior and the Forensics Club Speech Librarian, is already excited for the season with the full team.
"It's a very close-knit family and everyone is super helpful. I'm looking forward to competing at tournaments with everyone," Leng said. "It's an amazing club to be part of."
For more information, visit the Forensics Club FAQ on the State College Area High School Forensics Club webpage.