How Other Countries Celebrate Christmas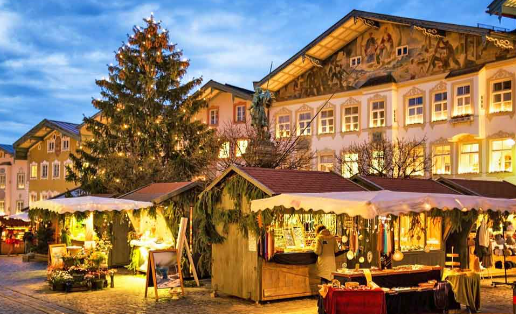 Celebrated in more than 160 countries around the world, Christmas is a holiday of unity, hope, and joy. For many who celebrate, it is a time of year to do good and help those in need. Despite the shared meaning of Christmas that is understood throughout the world, there are many different traditions in cultures around the globe. 
Japan 
Christmas in Japan is the most romantic day of the year, similar to how Americans view Valentine's Day. The day traditionally involves spending time with your significant other and exchanging gifts. Quite the opposite to other places in the world, there are usually a lot of parties on Christmas day, and New Year's Eve is a religious holiday spent with family. 
The most widespread Christmas tradition in Japan is getting dinner from KFC on Christmas day. This tradition has become so popular that people start placing their orders for the special Christmas menu six weeks in advance because demand is so high. With approximately 3.6 million Japanese families getting their Christmas dinner from KFC, the wait in line is hours long. 
Japanese Christmas cake, kurisumasu keki, is the most popular treat during the season. The light, spongy cake is filled with whipped cream and topped with sliced strawberries. Although delicious, this cake is so much more than a Japanese Christmas treat. It is a symbol of prosperity after World War II. During the war, American soldiers gave Japanese children candy, which was viewed as a luxury, as only somebody with extra money to spend could buy sweets. This sugar-filled, Americanized cake, which we now know as kurisumasu keki, originated as a symbol of Japanese accomplishment. 
Sweden
A significant part of Swedish Christmas is the well-loved festive food. On Christmas Eve, it's time to gather around the table and eat a delicious smorgasbord with every Swedish Christmas food you could imagine- from Christmas ham 'julskinka' to chopped beetroot salad 'rodbetssallad'. Popular festive foods in Sweden also include saffron buns, gingerbread biscuits and Swedish glögg. 
To mark the winter solstice, Swedes celebrate St. Lucia Day on Dec.13. This Catholic tradition is based on the story of St. Lucia from Italy, who was one of the earliest Christian saints to gain a widespread following. The historical custom of St. Lucia Day has been around since the 4th century, making it one of the longest-held Christmas traditions. 
Rustic, minimalistic Jul decorations are what make Christmas in Sweden so aesthetic. These Swedish decorations have a natural and handmade look to them. Some examples include wreaths on doors, hyacinths on tables, and tree ornaments made of straw. Candles are also often placed around the home. Swedes decorate their homes on either Dec.1, or Dec.13, to mark the winter solstice and St. Lucia Day. 
Austria 
The most unique part of Christmas in Austria would arguably be their specialized version of Santa. Santa still visits the well-behaved children on Christmas Day, gifting them chocolate and oranges. But accompanying Santa is his monster-like sidekick Krampus, who punishes the bad children. This tradition has evolved to "Krampus Parades", held on Dec. 5, when adults dress in a Krampus costume and try to scare the people of the town. 
During the 12 nights around Christmas, every family prepares a mixture of palm branches from Easter and herbals. The scent is spread throughout the house and is said to bless the household by keeping evil spirits and misfortune away in the new year. Another Austrian tradition that is believed to bring good luck into the new year is bringing cherry tree or apple tree branches into homes so that they can bloom on Christmas Day. The tree branches are brought into the home on Dec. 4, the day of The Feast of Saint Barbara. 
Germany 
The pickle in the tree tradition has become widespread throughout the globe, however, originated in Germany in the 1890s, and still is a lively Christmas tradition today. This fun, festive custom involves hiding a pickle ornament in the branches of the tree, and giving a gift to whichever child in the family finds it first. 
Iconic, popular German Christmas markets are an irreplaceable tradition in Germany, boasting an estimated 3,000 markets per year, making a profit of $5 billion annually, and bringing in 80-90 million visitors from outside countries every year. This well-established tradition has been in Germany for 600 years, but has recently spread to other places around the world. Classic German Christmas market food would be sausages, potato cakes, lebkuchen gingerbread cake, and other baked goods. Homemade wooden toys and trinkets are also sold, in addition to candles, Christmas tree decorations, and sweets. Nutcrackers are also a popular product in these markets. The Striezelmarkt in Dresden and the Christmas market in Nuremberg are the best-known Christmas markets for wooden ornaments and nutcrackers. 
Egypt 
In Egypt, Christmas isn't celebrated on Dec. 25 but is instead celebrated on Jan. 7. Over 90% of Egyptian Christians are Orthodox Christians, therefore they follow the Julian calendar, instead of the Gregorian calendar. On their Christmas Day, Christians visit Mount Sinai, which is where Moses received the Ten Commandments. The historical mountain is an important place for those of the Christian religion. At the top of the mountain, there is a small chapel where people go to pray and worship. 
An annual Egyptian Christmas tradition is to fast for 43 days during the festive season, from Nov. 25 to Jan. 6. Although formally referred to as the "Holy Nativity Fast" most Egyptians call it "lent fasting". The rule is to only consume vegan products during the fast, and to then on Jan. 7, eat all the meat, cheese, and eggs they couldn't eat before Christmas Day. 
England 
Invented in London in 1845, Christmas crackers are a festive table decoration that have been traditionally used at Christmas dinners for centuries. The brightly colored paper tube pulls apart with a loud pop, revealing a small gift, party hat, and a joke or riddle. 
Another English tradition that has been around for centuries is mince pies. Dating back to the middle ages, the bite-sized pies used to be filled with chopped fruit. They evolved over the years to now being a mincemeat-filled pastry. These treats are a staple during the festive season. 
The beloved tradition of Christmas pudding is very important in Britain. A Christmas pudding is a dense fruitcake that was first made by Brits in the 14th century.  What makes Christmas pudding so special is that the cake is made weeks, sometimes months in advance, so that the dried fruit can soak up the flavors and mature. During the making of the pudding, it is traditional to have each family member help stir the pudding mixture and make a good luck wish. Historically, a silver coin was then placed in the pudding at this time, with the idea of whoever received the coin in their slice of pudding on Christmas Day was then said to receive the luck.
Although festive traditions vary amongst nations, one common factor we see is the joy of celebrating Christmas. Regardless of where in the world you celebrate, we all share the same meaning of Christmas.