Jamaican Me Crazy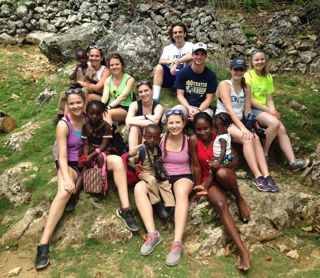 Before:
When spring break approaches, many students flee the town. This year, several State High students are deciding to dedicate their time off to loving children in Jamaica by going on a mission trip.
The trip is being held through Good Shepherd Church, where these students attend services. The students will be spending one week in Maggoty, Jamaica helping to build houses, paint, improve computer labs, running the health clinic, and more. They will also be working with the children living there ages 3 to 18.
Junior Keira Scharf is one of the many State High students traveling on this mission trip. "I've never been out of the country, and I've never seen what it is truly like to live in poverty, so I think that it will change everything for me to see how these people continue to live such amazing lives, even though they have so little," said Scharf. While there, Scharf will be leading the worship services for the youngest children.
Sophomore Sam Brungo is also excited for the trip. "I am really interested in photography and I think this is a rare opportunity to shoot something other than I am used to shooting, and capturing the moment through photography," said Brungo. "I also think it is an awesome opportunity to see how another society, one with less than us, lives, and be able to be humbled by that."
After:
After the students returned from their trip, they were in awe of everything they experienced. "The most memorable part, and something that I will never forget, is the love that the people in Jamaica carry with them every where and share with one another," said Senior Michelle Irwin, "Almost every kid who I saw had smiles and laughter filling their faces while I was around them; all but one. One little girl was three years old. Her name was Roshika. She never smiled, and barely ever talked. Her older brother was in a different group but cared about her deeply and truly. I took care of Roshika while her brother was with his own bible study group. My whole time with her, I tried to make her smile or laugh, or anything; but I got nothing. By the time her mother came after a few days of no smiles, I asked if I could have a hug. I saw a moment of hesitation in her eyes at first but then the biggest smile on her face formed and she ran up to me with both arms opened wide and gave me a huge hug. This was the most memorable moment for me. Seeing a girl who I thought would never smile, shared love and joy with me. Everyone has love inside of them, it is our choice whether or not we keep it to ourselves, or we share it. We don't have a limited amount of happiness. Our happiness is endless so why not share it with others?"
Irwin was not the only student to learn an important lesson while in Jamaica. Junior Keira Scharf regards the trip as one of the greatest weeks of her life. "Something I will always remember is that those who are happiest are not those who have the most, but those who make the most of what they have," said Scharf
It seems as though this trip benefitted not only the children and community being helped, but also the State High students who witnessed all of their love.