Teachers of State College Area High School- Mrs. Judy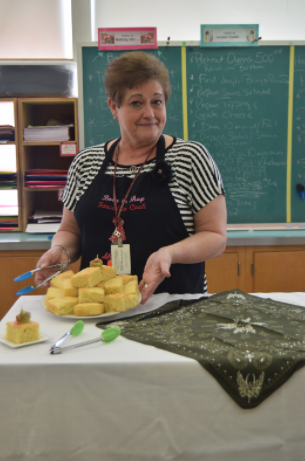 Mrs. Judy has been working in the State College Area School District for 22 years. She is a part of the Family and Consumer Sciences(FCS) department and teaches; Baking 101, Fabulous Foods, Senior Foods, and Fashion and Technology. Her favorite class to teach is Fabulous Foods. Mrs. Judy attended State High and continued her education at Penn State University. She also spent time teaching FCS at Park Forest Middle School and Mount Nittany Middle School in addition to her time at State High.
Best part of being a teacher: "I get to play with my food."
Worst part of being a teacher: Paperwork
Best memory as a teacher: "Being asked how to make ice water."
What is your favorite unit to teach? Thai Cuisine in Fabulous Foods
What do you do in your down time? Shop
Favorite Color: Pink
Favorite Food: Filet Mignon
Favorite Song: "What a Wonderful World" or "Happy" by Pharrell Williams
About the Photographer
Maya Yoxtheimer, Staff Writer
Hi I'm Maya Yoxtheimer, and I am currently a senior at State High. I joined Journalism this year because I love to document my experiences as well as...