A Sweet Start to Thespian Rehearsals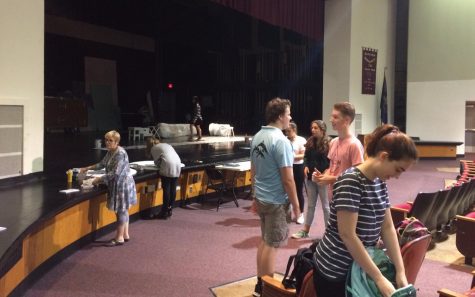 Whether you're a devoted reader or a die-hard Disney fan, everyone has heard of the Winnie the Pooh stories. This year, the State High Thespians will be adding a new dimension to these classic stories through their production of The House at Pooh Corner. The play, based on the original stories by A. A. Milne, was adapted for the stage by Bettye Knapp, and is divided into three acts. The House at Pooh Corner tells the story of Christopher Robin, an eight-year-old facing his impending journey to boarding school. Meanwhile, Winnie the Pooh, Piglet, and other inhabitants of the Hundred Acre Woods are attempting to build Eeyore a house in time for winter, but the arrival of Tigger causes quite a disruption.
The House at Pooh Corner was first discovered by Thespians on the executive board last year, with the help of Jill Campbell, the director of Thespians. "The House at Pooh Corner story is really important to tell now, because there are so many just wonderful threads, thematic threads that run through it, that share just great messages," Campbell said. Teamwork, leadership, acceptance, generosity: all increasingly important in both our school community and world.
The cast features a wide range of ages and experiences, and stars sophomore Nicholas Cole as Christopher Robin. "Christopher Robin is a really fun role to play, surrounded by lots of really fun other characters to play with in the show, and it's a really fun time when I get to bring out my inner eight-year-old and present it to the world," Cole said.
In a survey among  State High students, 100% had heard of the Winnie the Pooh stories. The means, however were varied, with only 21.1% of students first exposed to Winnie the Pooh through the original A.A. Milne stories. 81.6% of students were introduced to the Disney movies and shorts, with an additional 78.9% introduced through picture books.
The House at Pooh Corner runs from November 17th-19th, and tickets will be available for purchase soon.
Campbell says, "the message is just as relevant to them as it is to a second grader, as it is to their parents and grandparents, and they shouldn't discount it just because it's a children's play. It's an everyone's play."