Vocal Valentine Voices Echo Through the Hallways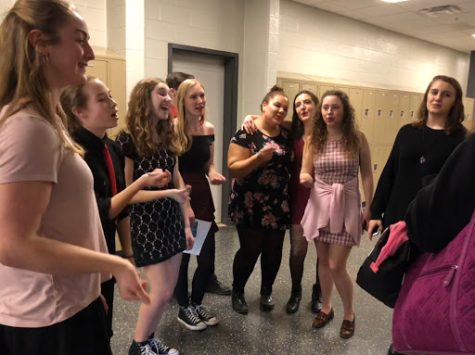 On February 13th grades 9-12 all were serenaded with an a cappella performance from the Vocal Valentine singers. While some enjoy this, watching and listening, others didn't seem to appreciate the hard work that went into making this possible.
Kristina Hughes, senior and President of Tri-M, said, " Auditions were on January 9th, the choir director, Mr. Clayton held the auditions. There was no prepared song, it was based on sight reading and the quality/sound of your voice. Over 40 people auditioned." But unfortunately, not everybody could make it.
A total of 19 people made it, names included in the following: Sasha Ahrestani, Jackson Dillard, Colin Vollmer, Frankie Dorman, Will Fecko, Nick Richardson, Will Hurtz, Nathan McKinstry, Eva Hirsch, Emily Lieb, Savannah Wilson, Lena Clark, Sarah Devan, Jeannette Felmlee-Gartner, Isabelle Snyder, Kristina Hughes, Lily Najjar, Lizzie Hamlett.
"They were split into four groups, two of which were guys, and the other two were girls. The two guy groups only had four people in them, but the girl groups had five," Hughes said.  Every group had a leader, the leaders included: Sasha Ahrestani, Nathan McKinstry, Eva Hirsch, and Lizzie Hamlett. "There were six or seven different songs per gender, most of which were upbeat tunes that have been really popular over the years of Valentine's Day, but some were ballads. They had to teach themselves the songs, starting January 15th. Last year one of the Vocal Valentine girl groups performed Tattooed Heart."
Comparing this year and last year there was an increase of orders. Last year people ordered 167 Vocal Valentines for friends, teachers, or a special someone, but this year the sales went up by 6.6% making this years total 178 Vocal Valentines ordered. Hughes said, "Out of 10 I would give us an 8/10 because I think that we could've sounded better, and been more into it as a whole."
Lachlan Myers, freshman, said, "I found Vocal Valentines very entertaining, and I think that I would like to see them for the next four years of my high school life." Nathaniel Helton, sophomore, said, "I heard two of them and they were not bad. I think that it is a very sweet and cool thing to do if you are in a relationship, but if you are taking a test, they come in, it might disrupt the class – but it is very good as a whole." Mrs. Zuhlke, 10th grade English teacher, said, "My favorite song that I heard was Kiss The Girl because I am a huge fan of The Little Mermaid. As far as reactions go, Some people were mortified, and I noticed that the ones who were into it were not receivers. I like them, but it would be helpful if they gave us a heads up when they were going to come, but it's a really nice thing for them to do for everybody."
The performers in Vocal Valentines, loved the experience and all of the reactions. Eva Hersh, senior, said, "My favorite song to sing is Ain't No Mountain High Enough, and when we sang, some people looked embarrassed or awkward, but appreciative." The Vocal Valentiners favorite songs to sing were: Stand By Me – Will Hertz, Happy Together – Nick Richardson, What Makes You Beautiful – Will Fecko, and For The Longest Time – Nathan McKinstry. Overall this year's Vocal Valentines were a hit among all grades. Happy Valentine's Day.