A Special Event for Some Very Special People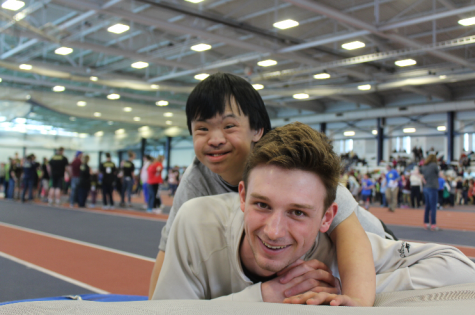 You know that feeling you get when you are running down the track and your friends are all cheering you on, and you can't stop yourself from smiling? Well, the Special Olympics helps to give that experience to students with special needs. It is a day that students look forward to and work hard for all year. The event took place on Thursday, April 19th and started with a kickoff parade with the marching band.  Many students from State High participated.
"People should know that Special Olympics has such an amazing environment. Everyone leaves the event with a huge smile on their face. I think that it is an experience that everyone should take part in," Kelly Vanden, junior, said. Vanden went to the Special Olympics to support her buddy Lydia Bradburn. "It is truly such an awarding experience and a fun time — I love seeing how happy the students are, no matter if they win or lose. Their school spirit and sportsmanship is truly endearing and inspiring. It is one of my favorite experiences."
The competitors got to participate in numerous events including (but not limited to) running races, the softball throw, relays and wheelchair races. A favorite among many were all of the races.  Lots of friends and families came to the event to cheer the competitors on.
"I loved seeing my mom and my grandma," Kaleb Brownson, a freshman who participated in the event said.  It's also a day for parents to be proud.
"I liked having my best buddy there" said Kenan Wirth, freshman.
"It's a wonderful day for all those with intellectual or developmental disabilities to compete and be honored through various events," best buddy, Addie Orndorff, senior, said. "It is truly such an awarding experience and a fun time — I love seeing how happy the students are, no matter if they win or lose. Their school spirit and sportsmanship is truly endearing and inspiring. It is one of my favorite experiences."
Jennifer Lee, a learning support teacher who went to the event, said, "I like to call [the day] magical because it's a day where the kids just totally believe that they can-do and it's a day where, if for instance I've never seen somebody run the one hundred yard dash, it's like they've been shot out of a canon. They are running that hundred yard dash. It is really heartfelt pride that the kids have in themselves and that doesn't always happen. Sometimes it's hard for them to grab onto something and say 'yeah I did this the best that I could ever do it' and that makes it a very heartfelt day."