Block Scheduling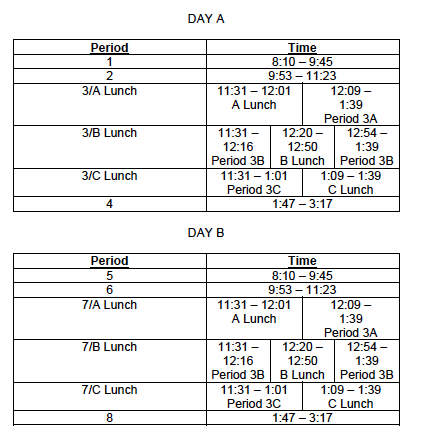 As most students are now aware, block scheduling will be coming to State High for the 2015-16 school year. Student rumors regarding the block scheduling began to spread starting in early December, with official confirmation from principal Scott Deshong coming mid-late December. The block schedule will come with both pros and cons, but SCASD administration feels it is a necessary change for the high school.
The block scheduling announcement was followed by wild speculation, some students having false assumptions about the block schedule. Part of reason there was confusion can be attributed to the fact that information about the block schedule was the fact that students were kept in the dark. State High currently has a standard schedule, meaning that all a student's classes are held daily in 45 minute sessions. With the block schedule, a student will have half their classes on a given day, with the other classes the next day. This is called an A-B block; there will be a six-day school cycle, alternating days A and B. This means that a student will have periods 1, 2, 3 and 4 on Day A, and periods 5, 6, 7, and 8 on Day B. Both Day A and Day B will include a mandatory 30 minute lunch. It has also been proposed that certain days will end with a 15 minute "Flex" period – a period in which students can meet with teachers or work on homework.
The State High Bell Committee originally proposed this idea. The committee, made up of four students, two parents, five teachers, and multiple administrators, developed five key priorities for this new schedule. They decided that it was necessary for all students to have lunch and access to academic programs and classes. They also thought that it was important for teachers to be able to collaborate within their content area, meaning that the block schedule would give teachers more time for common planning. The committee recognizes that students experience a high level of stress, and the block schedule is supposed to allow for more enrichment and remediation time for all students; it will provide the ability for students to meet with teachers for "extra study" opportunities.
Another reason for the switch is the impending State High construction. During this construction, students will not be able to cross the street through the South Building's parking lot. Instead, administrators have drawn two alternate routes between buildings, both of which go through the South Building's rear exits. Class transition time will increase significantly to accommodate students moving between the North and South Buildings, which would cut into valuable instruction time. The most obvious solution to this problem is to decrease the amount of transitions a student must make everyday. With a standard schedule, there are eight transitions per school day. On a block schedule, there are only four.
Not everyone is in support of the block schedule, however. Over 200 State High students took a survey created by Lions' Digest and shared their opinions on the block schedule. The data showed that 72% of the students surveyed said that they were not in support of the block schedule. Students were encouraged to ask questions in the survey. Also, only 20% of students surveyed said that they felt as if their input was taken into account when making the decision. Lions' Digest asked students for their feedback on the block schedule. One student commented, "Our education is what's being affected [by the block schedule]; we should have a voice in this decision." Another said, "I think you should have an administrator shadow students for a few days so they actually know what a school day is like, then they should have more in depth conversation with the students and teachers."
One of the main concerns students had was with study halls. Of the 264 responses, 207 people said they feel that study halls are a necessity to their school day. "Right now we have a minimum number of [instructional] classes allowed for week, like there are 26 for the South [students]," said Deshong. "We need to determine what the minimum number of classes that would be in a week." This means that daily study halls are still be a possibility for students.
Another of the main goals with this change was to lower stress. This past year, students from State High reported higher than average levels of anxiety, depression and suicidal thoughts. Although, according to the survey, 74% of people think that the new schedule would be more stressful, the goal is to reduce stress levels. State high administrators and teachers are going to look at what homework is just, "busy work" and what homework is really key to learning. They also want to find out how much homework is too much. "If we increase homework because we won't see students the next day, that's not helping the stress for students," said Deshong. Most teachers recognize they cannot pile on excessive amounts of homework and expect positive results, and are going to work to thin out the amount assigned.
As for band and other special-schedule courses, there is not yet a plan on how to continue these classes. Deshong says he hopes to work with teachers like Dr. Perry and Mr. Draefall to work out a schedule that would work for students.
The last concern was with athletes, who, during their season, might miss every Tuesday/Thursday or Monday/Wednesday/Friday due to away games. The administrators have recognized that and are working to find a way to work around it.  The new one-to-one system at State High is planned to help students be able to complete their work without being at school. State High has also purchased WiFi hotspots for some buses. Teams that travel long distances for events will have access to the internet during the bus ride.
Overall, SCASD is hoping that the switch to block scheduling will help the students and the teachers. This change is supposed to lower student stress levels and  allow teachers to collaborate. To the students: the administrators have heard your concerns and are currently looking for constructive solutions. "It comes down to helping teachers using the same type of strategies they're using now and work it into 90 minute periods and use them in a way that's effective. It also comes down to how well teachers know their kids and using the best strategies that work for kids," said Deshong. Stay tuned for an updated survey on student opinions of the block schedule as more information on the topic becomes available.