Passion Meets Purpose: State High Seniors Address Community Needs Through Baking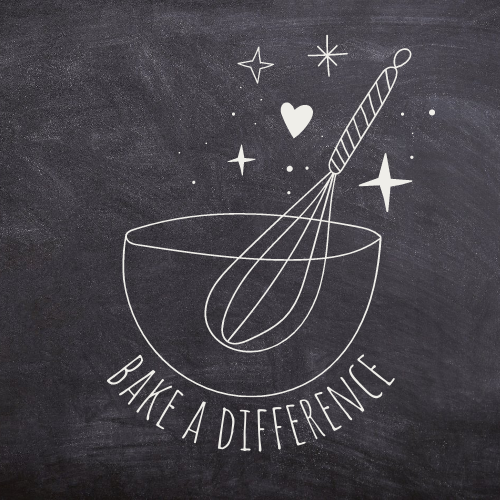 This year, State High seniors Madeline Krentzman and Grace Jones are melding their passions for baking and giving back to the community through their respective volunteer projects. Krentzman and Jones' initiatives both seek to address timely needs in the State College area that have been brought to light by the difficulties that COVID-19 causes for local families and children. 
Krentzman's concept, the Bake With Love Project, has been in the works since May 2020. Krentzman combined her community-mindedness and a lifelong love of baking to create Bake With Love. The project aims to provide solutions to what Krentzman sees as an often overlooked problem: food insecurity, defined by the U.S. Department of Health and Human Services as "the disruption of food intake or eating patterns because of lack of money and other resources."
The mission of the Bake With Love Project is to fight food insecurity for kids and families in the Centre County area through fundraising and raising awareness. Since keeping her project's funds and impact local was important to Krentzman, she opted to partner with Travelin' Table and Centre County YMCA chains as Bake With Love's beneficiary. Krentzman decided to compile and sell cookbooks, donating all profits to her chosen cause.
"[The idea for Bake With Love] came from a place of gratitude, really; I was feeling really thankful for what I had, and I knew that there were a lot of families within our community that were struggling and needed help," Krentzman said. "You go downstairs and you get food out of your pantry, but there [are] a lot of kids who don't have that reality, especially locally—it's way more than I ever would have thought⁠; this has been very eye-opening⁠. So I hope that through my project I raise awareness for an issue that isn't always discussed."
Krentzman emphasized the relevance of her project, acknowledging that COVID-19 has caused many to lose their jobs and kids to spend less time in school, making regular meals less accessible.
"Food insecurity is of the utmost importance, but it's not always something that we think of first," Krentzman noted. "Typically within the pandemic, the first thing we think of is health and overall physical wellbeing, but there's also that mental wellbeing and then there [are] all of these basic needs that need to be fulfilled. The Bake With Love Project is especially timely because it's serving a big need that needs as much support as it can get."
Upon launching her initiative in spring 2020, Krentzman spent the next year collecting treasured recipes from those around her to compile the Bake With Love cookbook. Starting in mid-April this year, the cookbook (priced at $25) became available for purchase in local businesses, all Centre County branches of the YMCA, and online with all profits and additional donations benefitting Krentzman's chosen cause.
From the beginning, Krentzman knew she valued creating a cookbook that represented many people, families, and cuisines. The final product features recipes from bakers ages 11-85. A plethora of cultures are represented, including Jewish, Armenian, and Indian cuisines.
"I started [the cookbook] by reaching out to all my friends and family, just looking for interesting and unique family recipes," Krentzman said. "By the end of it, I got almost 90 recipes. The cookbook is filled with family recipes that are very cherished and loved, and they come from a very wide range of cultures."
Krentzman's target audience for cookbook sales is kids and families in and around State College, who she hopes will enjoy trying new recipes together.
"Something that's important to me is that it's families helping families in a way, and kids helping kids," Krentzman said.
Selling the cookbook opened up exciting opportunities for Bake With Love to branch out, such as hosting in-person events around Central Pennsylvania over the summer of 2021. One such event was a cookbook signing Krentzman organized at LIFeSTYLE Next Door in Bedford, PA.
"I've had a lot of success at those events; they're my favorite part of the project. I love connecting with people over something that I've done and am so passionate about," Krentzman said. "Personally, I've just loved talking to people about this book and this project and really widening people's understanding of food insecurity."
In addition to executing events centered around the Bake With Love cookbook, Krentzman volunteered with programs offered by the local YMCA network, her project's beneficiary. Krentzman helped at meal distributions and attended Grange Fair with the organization.
Roughly 20 copies of the Bake With Love cookbook remain, but Krentzman's work in the community is not over. She intends to continue her involvement in the YMCA's anti-hunger programs as the school year progresses and is collaborating with the organization to implement baking and cooking programs for kids on weekends.
"My hobby of baking and [my appreciation for] doing volunteer work, donations, and fundraising…[are things] I want to keep doing as hobbies as I get older…and even move out of the Centre County community⁠—to just help my local area," Krentzman explained.
Grace Jones' baking initiative, unofficially named Cakes That Care, has been underway since February 2021. Her goal is to bring joy to local kids and teens in the Centre County Youth Service Bureau's (CCYSB) residential programs by baking them birthday cakes tailored to their likes and interests. Like Krentzman, Jones values giving back locally, which led her to work with the CCYSB. Through baking treats for adolescents housed in the organization's independent living shelters, apartments, and group homes, Jones hopes to make a positive impact.
In talking with the CCYSB's director of residential programs, Jones realized that many of the older kids in programs get overlooked when it comes to treats and just-for-fun opportunities because they are more independent. She bakes for individuals ranging from ages 13 to 21. Jones noted that she appreciates her birthday cakes now just as much as she did as a ten-year-old, and she anticipates that other teens feel the same.
"I think that it's important for everyone to get celebrated and I think this year's been really tough on everybody," Jones said, noting that everyone deserves the love and air of celebration that comes with a birthday cake, whether they have someone to celebrate with or not. "No matter what they're going through, it's important to have a day to celebrate. Maybe they haven't had that day in a long time and their birthday is supposed to be something just to celebrate them, so I kind of just wanted to help [with] that."
Jones grew up baking and decided to center her project around her lifelong passion because of the joy and celebration cakes represent, as well as her desire to share that with others.
"My mom and I have been baking together since I was tall enough to reach the counter, and we love baking, it's just super fun," Jones said, going on to explain her inspiration for Cakes That Care: "I saw a TikTok video [of a girl] donating gifts to a local shelter for kids who were spending their birthdays in the shelter. So I was like, 'That's a really cool idea.' And I just thought about what my favorite part of a birthday is, and it's always been going downstairs and my cake's been downstairs waiting for me [and it's] got me so excited. The ball kind of started rolling from there and I started thinking about how I could make it happen."
Jones has baked over a dozen cakes since the start of her project. For her, baking for the CCYSB is a win-win situation: she gets to spend time on the hobby she loves, and the recipients get a homemade birthday cake, a gesture that someone cares.
"It makes me happy to think that somebody who might not have anybody [to] celebrate their birthday [with] is going to have something that maybe they didn't have last year—like maybe they didn't get a birthday cake or get a present last year, and they're going to have something this year," Jones said. "It makes me happy just to think about it!"
Jones receives tidbits of information (such as age and favorite color) about each kid she bakes for in order to customize the icing and toppings to each individual's interests.
"One girl said she really liked rainbows, so I made [her] a rainbow cake, which I loved doing—that was so much fun. If somebody likes animals, I might get the chocolate molds out and I'll make chocolate animals," Jones explained.
Jones' project has taught her organizational skills and the importance of planning ahead. She keeps track of food restrictions information, such as allergies and gluten-free or vegan needs, and bakes cakes in batches to make the process more efficient. "I have what I call a baking day, and I just [bake] all my cakes at once," Jones explained. "A lot of bakers freeze their cakes and I do that too because it helps with decorating."
For privacy reasons, Jones can't meet the cakes' recipients, but she noted that the one time she heard back about how much one girl enjoyed her treat, she found it very rewarding. "The first time I dropped off a cake, I got an email back, and it said that she really, really liked the cake," Jones said. "And I was like, 'That's so sweet!'"
Though Jones doesn't find out what happens after the cakes are passed into the hands of the CCYSB, she is content with not knowing. "I can hope that it makes them happy," Jones remarked.
Krentzman and Jones, both State High seniors and lacrosse teammates, found a way to merge hobbies with community services in their individual baking projects. Both initiatives started small, with Krentzman and Jones mainly working independently, but Bake With Love and Cakes That Care have grown to become much bigger than the two community-minded students, positively impacting the community one recipe or birthday cake at a time.