State High Cross Country Emerges Victorious on Senior Night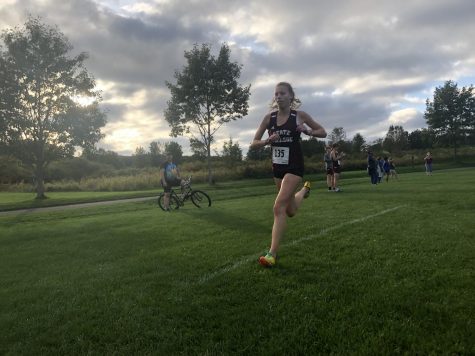 On Monday, Oct. 11th, the State High Boys and Girls Varsity Cross Country competed in their senior night meet. The girls defeated Penns Valley, Grier, and Saint Joseph's throughout the meet, and the boys defeated Penns Valley and Saint Joseph's throughout the meet. 
For the boys individually: senior Charles Endres took home first with a time of 17:15.05, junior Nick Sloff got second with 17:15.10, senior Trent Dinant got third with 17:15.21, senior Tony Tzolov got fourth with 17:15.44, and freshman Griffin Selber got fifth with a time of 17:29.78.
The first and only home meet of the season was full of team spirit and mutual support. Even those not racing cheered on their teammates throughout the course. Sophomore Cara Zuech shared how she and her teammates supported each other. 
"When we're not racing we are at every point we can be to cheer them on and just get them to keep going. It's a very mentally hard sport, it's like very tough when you're just like by yourself so we support each other," Zuech said.
Junior Elizabeth Blizzard, Zuech, and others sat near the finish line to cheer their teammates on the home stretch. "There are some people who just don't really race at all but they are still like just always here for support," Blizzard said.
The constant cheers and encouragement no doubt helped competitors along the way.
"It's nice just to have like all the community here. It's our only home meet of the season so there [are] tons of people here who know us[….] It makes it fun," junior Marlee Kwasnica said.
State High girls did well throughout the race: Kwasnica came in second with a time of 18:57.3. Third and fourth place were taken by juniors Grace Morningstar (19:57.8) and Amy Devan (20:27.4) respectively.
"[I] would have liked to win but [am] more focused on like the bigger championship meets coming up, and I got a course PR (personal record) so I'm happy with that," Kwasnica said.
Senior night provided the team with a chance to celebrate their seniors' accomplishments and time on the team.
"I also got a course PR so I'm happy," senior Maya Ikenberry shared following the race. The last home meet of her high school career was no doubt bittersweet. "Cross country has been a really good experience for me and it's like how I've met some of my best friends," Ikenberry said.
Following the race, the team had time to share favorite memories of the past four years as well as the seniors' future plans. Senior night proved to be a memorable and successful night for all. There are some big meets coming up, and with a stellar performance by the teams, State High Cross Country demonstrated on Monday that they are to be contended with.