Why Were The Pride Flags in the Main Hall Removed?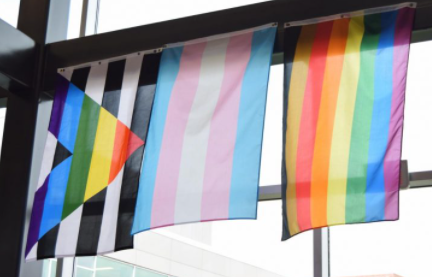 In the last few weeks, students at State High have noticed the removal of 16 different pride flags at the end of the main hallway, which many would see going to lunch everyday. Without much of an explanation, students were confused and angry about the removal. 
The flags were put up at the start of October and removed one month later. 16 flags were up, representing various parts of the LGBTQ community and their allies. In November, though, the majority were removed while five were moved to the entrance of the main hallway, near the nationality flags. Among those still hung up are the Transgender Flag, the More Pride Flag, the Lesbian Flag, the Non-Binary Flag, and the Ally Flag. 
Many students were confused as to the reason for the removal, but Dr. Seria Chatters, Director of Equity and Inclusivity at State High, offered an explanation.  
"The flags were not removed for any reason but LGBTQ month was over […] The flags will go back up in April for Pride Month," Chatters said. She added that any student wishing to provide input regarding what flags should be up should contact the LGBTQ Alliance to make a suggestion.
Some students, however, think that the flags should instead be up all year round. Sophomore Lemmy Klinger believes that the school should keep the 16 pride flags for the entire year, not just the months of April and October. They said that keeping the flags up is inspiring to students who identify as LGBTQ.
"They should keep them up and add more, like demiromantic, grayromantic, and graysexual," Klinger said. 
Although some pride flags were taken down, students can still have suggestions and input concerning which flags should be up. Think State High should put up a pride flag that represents you?  Contact the LGBTQ alliance with your suggestion.