State High Lends a Helping Hand: Tornado Relief Drive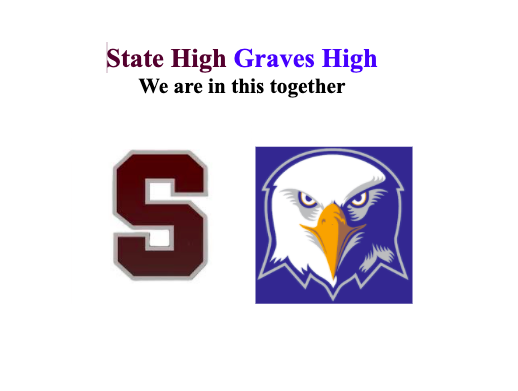 On Dec. 17 and 19, State High Student Government and student senates held flash fundraisers during all lunch periods to directly help those impacted by tornadoes the week prior.
Late Dec. 10, tornadoes ripped through the south and central US. These tornadoes were part of a weather system that tore through Illinois, Tennessee, Kentucky, Mississippi, Missouri, and Arkansas. Currently, there have been about 90 confirmed dead with the large majority (76 dead) in Kentucky. Thousands of homes, schools, workplaces, and more, were destroyed or left without electricity that Friday night. 
One of the hardest-hit towns, Mayfield, Kentucky, saw huge devastation with several buildings—including an occupied candle factory—being completely destroyed. Currently, many are left without electricity, water, or a home. The recovery process will be a long and arduous one, but State High students found a way to help. 
State High partnered with Graves County High School to help the school provide basic necessities to students and their families. Andrew Merritt, a social studies teacher at State High, had been in contact with the principal of Graves High School about how State High can help meet their needs. Merritt, along with student leaders, settled on hosting a flash fundraiser.
"The money is going to be used for helping kids who need things immediately," Merritt explained.
Graves High School is located in Mayfield and although the school, fortunately, is able to continue running, many of the students are in desperate need of the basics. 
"Water, […] basic sanitation—all of that stuff has been destroyed, electricity is gone," Merritt said. 
Nathaniel Sims, Senior Senate President who played a role in organizing the drive, explained how the school itself was impacted by the storm. 
"The school we are supporting lost a large portion of school supplies due to damage from the storm. The money we have raised will go directly to the school to allow them to purchase exactly what they need to replace what was lost," Sims said. 
With many students and the school suffering due to the natural disaster, being able to run school smoothly becomes a challenge. Donations will help families impacted to be able to afford basic necessities—everything from clothes to cleaning products.
"Our stuff is going to go to the nuts and bolts of everyday life," Merritt said. 
Merritt stressed the importance of lending a helping hand to those in need—even if they are far away or complete strangers: "We are all human beings and we are all in need at different times […] We all have an obligation to each other so if I see that you're hurt, at the most basic level I have an obligation to say 'what can I do to help you?'" 
Helping fellow humans—regardless of any differences—during a time of desperate need can be crucial to the healing process.
"Unfortunately, I think in today's society, we are not doing that enough," Merritt said. 
Student Government President Clarissa Theiss explained how despite being from different states, "[Graves' students] are not so different from us." 
Being able to help others while they are down can be an important part of building community. 
"We are really privileged where we are right now and we have a lot of students able to help. […] Our goal is to be able to extend a helping hand whenever other schools need it," Theiss said. 
Sims expressed how recognizing our privilege is an important part of seeing how we can help others. 
"Coming from a school with an abundance of resources, we often forget the reality many students around the country face every day," Sims said. 
Students were encouraged to donate what they could—even a dollar can make a difference for those in need. Words of encouragement and simply knowing that someone is aware of one's struggles (even if it is from a different state) can help the long and difficult healing process. In addition to monetary donations, students and staff were able to write messages on postcards to be sent to Graves High School. 
State High students and staff came together to raise $3,710.33 for Graves High School. This money will go directly to those affected in Mayfield, helping the long journey towards full recovery.