State High Forensics Gears up for Its Competition Season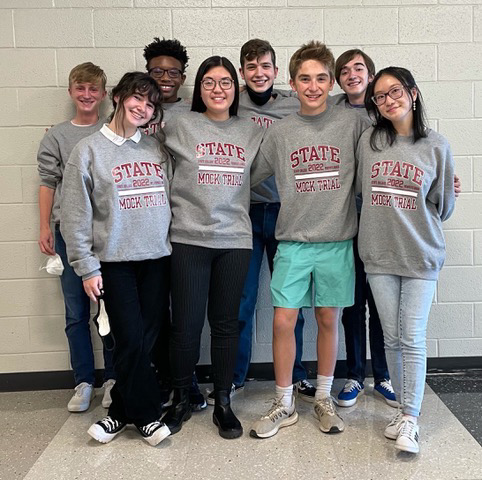 After months of practice, the State High Forensics team is finally starting their competition season. As Districts rapidly approaches, the team has been continuing their weekly Thursday practices in the C1 pod to practice debating, rehearse their speeches, and gather feedback from their peers and captains.
Team president Clarissa Theiss and vice president Victoria Zhu lead practices, which focus on teaching students how to find confidence, analyze works of art, research interesting topics, retain knowledge, and think on their feet. All practices are in preparation for the upcoming tournaments in the Northeast U.S, where the group will face off against some of the nation's top high schools. 
Although the whole team is split into groups—Public Forum, Lincoln Douglas, Speech, Congress, and Mock Trial—all teams look forward to the same thing: watching members grow. 
"I'm primarily looking forward to watching the novices grow, and learn how debate is such a great thing," said senior Serena Duncan, captain of the Lincoln Douglas team. 
Speech team captains were in agreement with Duncan's perspective.
"I'm looking forward to seeing the improvement of everyone's speaking skills from tournament to tournament," said Michelle Zhang, co-captain of the speech team.
This excitement is not just about competing again. It is also about being able to practice together once again and watching each individual's performance.
"I'm just really excited to see all the students in speech perform, even in front of us in small groups," Allison Mi, co-captain of Speech, added. "It's so fun to watch the improvement [from] when they first start out to when they are performing now."
Although good results are always wanted, the biggest goal team captains have is for each competitor to improve and grow after each competition. For the novices, on the other hand, they are looking forward to finally competing. Nat Hicker, a freshman on the Mock Trial team, expressed what he is most excited about. 
"I'm looking forward to getting my first taste of real competition at districts or regionals for mock trials," Hickner said. 
While Hickner also worries that their team would not make it as far as they hope, he believes that the team is ready.
"I worry that we won't get as far as we think we will and that seniors won't have a good send-off," Hickner said. "[But] we have a lot of really smart people who all know what they're doing."
Other aspects that many are excited about include being immersed in the competition atmosphere once again. With Districts quickly approaching, captains took a moment to reminisce on memories they hold from past tournaments. 
"Meeting my opponents, and then getting to hear everybody's different take on the topic we're debating and trying to come up with arguments," Duncan said, reflecting on her favorite experiences. 
Junior Elijah Adu, captain of Public Forum, echoed this sentiment.
"[My favorite experience is] definitely the kind of on-the-fly strategy of it all. Just trying to kind of figure out what your opponents are going for, and trying to counter that and win the round," Adu added.
But despite all the excitement of competing, many worry about how competing in a virtual format will play out.
"Mainly, it's been a logistical problem to go to tournaments this year, with a lot of tournaments not providing correct information or changing things last minute," Adu stated. "I feel really bad for a lot of our younger teams who didn't get to go to as many tournaments this year as we have in years past."
The main reason behind the logistical problem is the pandemic.
"It's the first year back after Covid pretty much. So, we're not in person yet, but it's pretty exciting that we actually can have forensics this year," Zhu said. 
State High Forensics hopes to compete in person again by next year, but for now, their main focus is preparing for the tournaments ahead of them, starting with Districts, which is set to be held on Saturday, Feb. 19.