April 24-30 Centre Daily Times' Athlete of the Week
As the year closes, State High spring sports are coming to an end, highlighting the end of a great season and showcasing many new young athletes. One of these upcoming lacrosse players was named as Centre Daily Times' "Athlete of the Week" for the week of April 24-30: Cooper Brushwood.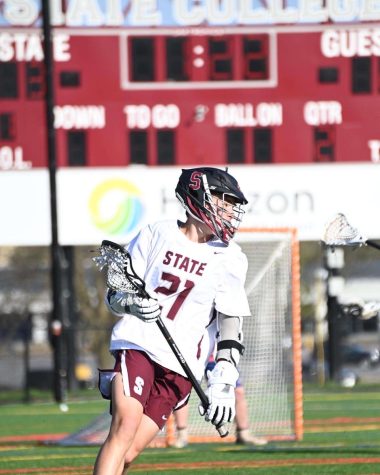 Brushwood first began learning to play lacrosse from family friends as a seven year old, and soon fell in love with the sport. He's now a State High freshman, but that hasn't stopped him from quickly becoming a member of the high school athletic community, as he also played on the SC football team in the fall season. 
In expanding on his athletic success, Brushwood touched upon the importance of mentorship. "Coach Kaluza [the boys' lacrosse coach] is awesome. He's a real mentor to all of us, and he makes sure we're doing the right thing on and off the field," Brushwood said. "It's important to have a coach like that who actually cares for you as a person. I feel like he has a huge impact on me, how I act, and what I want and aspire to be." 
Aside from coaches, there are many student athletes who have shaped Brushwood: "Carter Williams, Leo Vandevort, and Branden Price—they all kind of took me under their wing and showed me around the do's and dont's of the field, and especially how to act as a person," Brushwood said.
For a freshman, college can seem a lifetime away, but not to Brushwood. "I have aspirations of playing in college. I've been doing it for so long, so it would be sick to play in college, [and] hopefully I can go a little bit further. It would be amazing to play at Penn State, Cornell or UNC."
Some of these dreams don't seem too far-fetched, as Brushwood, an offensive midfielder, has already scored 46 points over his 15 games and played varsity the entire season.
Brushwood also described the experience of being nominated and named Athlete of the Week. "There's only been a couple for lacrosse—Branden Price being one of them—so as a freshman, it's pretty cool. You get that recognition and kind of earn that respect from a lot of the older kids," he said.
One more thing Brushwood prioritizes is teamwork. "Team chemistry is the most important for a sport like lacrosse. You're not going to be going very far if it's an individual doing all the work," he said 
Beyond teamwork, his friendships on the field have added to his success.  "I feel like my social life is on the team, [and] I'm just hanging out with my friends here. That's why I feel like we've been so successful," added Brushwood.
Lastly, Brushwood shared his best advice for other athletes: "Know your role, do your job, and bring the juice."