Braving the Cold: IM Ski/Snowboarding/Tubing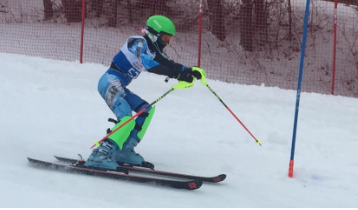 The rush of adrenaline, the bright lights highlighting the possibly artificial snow, and the wind whooshing up as you race down the mountain. It's something one can only experience in State College at Tussey Mountain, where IM Ski/Snowboarding/Tubing takes place. Open to all the students of SCASD in grades 6-12, the program is designed to allow students to have enjoyable activities in the winter with their friends. But it's not just that, and instead something more for the many people that participate in it.
"To me, IM skiing opens up opportunities for students to go and enjoy an outdoor activity in the winter," freshman Zoe Parizek said. "It helps me to pursue more passion for skiing because it gets me out on the slopes. Every run is an improvement over the last, and IM skiing helps me learn and grow as a skier."
Parizek started skiing over a decade ago, and simply grew up with it, but IM Skiing isn't purely targeted toward people who already have advanced skills.
"The great thing about the IM skiing/snowboarding program is that anyone can join," freshman Ellie Messick said. "If you are doing the IM lessons, they put you into a group based on your experience. After a couple hours of skiing with your group, you'd go inside to eat, then get to ski on your own. And to ensure everyone is safe, there is always a Ski Patrol on the mountain to watch out if anyone is hurt or in trouble."
Messick has been part of the program for over 6 years and has enjoyed it every single year.
"My favorite thing about IM skiing is just being there with friends. It is such a great experience, and I highly recommend it," Messick said.
"The whole experience is very relaxed. We go to Tussey Mountain after school and everyone is able to ski/snowboard on their own," sophomore Dorothy Tan said.  "There's not a specific or set schedule everyone needs to follow, especially if you aren't taking lessons. Everyone can join. I'm just learning to snowboard"
IM Skiing isn't something that just affects your teenage years, it can carry out into your adulthood as well.
"When you ski, it's just you and the mountain and you can choose to ski however you want to," head of the program, Tim Reddington, said. "It's something you can do for the rest of your life, and allowing the students to continue to have that experience while in high school might be something that they may continue to do through their lives, and possibly later on in life when they have their own families so that they would do it as a family event."
Although registration has closed up for this winter of 2018-19, the program will once again open up next year, and registrations will be welcome. "IM Skiing gives an opportunity to the students in high school here t actually go and experience winter from the standpoint of skiing, snowboarding, or tubing, and that's an opportunity I never had," Reddington said.
"IM skiing really opens up doors and gets everyone on the slopes," Parizek said. " It allows me to spend time with my friends doing something we all really enjoy, and the tight-knit Tussey Mountain community is amazing."