Spring Creek Elementary Opens Its Doors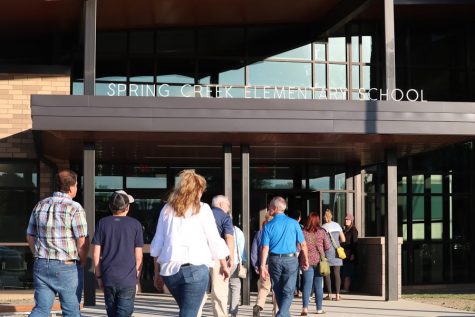 After years of being two separate schools, Lemont and Houserville Elementary schools are one elementary school: Spring Creek Elementary. On Wednesday, September 25th, the school opened its' doors to the public for the first time. 
The excitement could be felt as people walked through the doors; plenty of "oohs" and "aahs" were heard. The public was welcomed to the school by a group of fifth-graders who are the schools' ambassadors. They shook hands and handed out information booklets to those walking through the door. "It feels crazy that [moving into the new school] finally happened," said one fifth grade ambassador. Their previous school didn't have climate control, so the school was often hot during summer months, "the air conditioning makes [the school] feel really nice," said another fifth-grade ambassador. Before the doors opened they were sat in front of their brand new gym, which is separate from the cafeteria and stage for the first time, and were instructed to be kind and to shake everyone's hands. The guests were also welcomed into the school with cookies made by the cafeteria staff of Spring Creek. 
When Houserville Elementary school was built, they had put a time capsule in the school that was discovered and opened when they were tearing it down. The contents of the time capsule were on display at the open house. There were people present at the open house who were in photos that were put into the capsule and people who had signed their names on a paper that was in the capsule. 
"It felt like we were welcoming people into our home," said Title 1 teacher Chad Rockey, "I couldn't have been happier or more excited to welcome them into our home." Rockey gave guided tours throughout the evening, showing friends and community members the building he considers home. Staff and students alike will never forget the very special night they had welcoming community members into their new home.