The Streak Goes On as PSU Defeats Maryland Once Again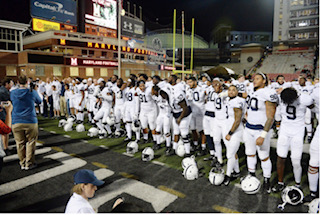 It has been 1084 days since the Maryland Terrapins (2-2, 0-1) have scored a touchdown against Penn State. That streak was not broken Friday night when Penn State won 59-0 on Capital One Field at Maryland Stadium. The pre-game atmosphere was electric with a record crowd on hand and a blackout in effect. But cheering for the home team ended there as the Penn State Nittany Lions (4-0, 1-0) took their record to 4-0 on the season.
Penn State got off on a fast start as linebacker Jan Johnson ended Maryland's first drive with an interception that he returned for 17 yards, setting up the Nittany Lions first touchdown. Moments later, quarterback Sean Clifford ran eight yards to drove the first touchdown of the night. 
Following a Maryland punt, Clifford connected with wide receiver KJ Hamler on a 58-yard touchdown pass. Penn State defense forced another Maryland turnover as cornerback Tariq Castro-Fields picked off the pass in the end zone and returned to the 5-yard line. Eleven plays and 95 yards later, running back Ricky Slade dove into the endzone to give Penn State a 21-0 lead.
After another short Maryland possession, Clifford drove the Nittany Lions to a 28-0 lead as he connected with Nick Bowers on a 15-yard touchdown pass.
Penn State's great offense was matched by the defense's best game of the 2019 season. On their way to their first shutout of the 2019 season, Penn State's defense held Maryland to 128 total yards and forced nine punts and three turnovers.
Penn State ended the first half with a 38-0 lead after a 34-yard touchdown run by running back Journey Brown and a 21-yard field goal by kicker Jake Pinegar.
With the game in hand, many Maryland fans headed for the exits at half time. This has become an all too familiar occurrence in the Maryland-Penn State football series which Penn State has a 41-2-1 series lead.
Penn State added three rushing touchdowns in the second half, one by Journey Brown and two by backup quarterback Will Levis to cruise to a 59-0 win in the first Big Ten game of the season.
Coach James Franklin was pleased with his team's performance. "[I] thought it was probably one of the more complete games that we have played in our six years really kind of in all three phases," Franklin said at a post-game press conference. "We played at a high level. Defensively, that team has been putting up a bunch of points against a bunch of different people. Challenging schemes, challenging personnel and our defense played lights out."
Penn State was led on the offensive side of the ball by Sean Clifford, who completed 26 of his 31 passes for 398 yards and three passing touchdowns. Clifford was also the leading runner with 54 yards and another running touchdown. Clifford's favorite receiver of the night was sophomore KJ Hamler, who gained 108 yards on six catches. Franklin was impressed with Clifford's performance "Offensively, I thought Sean [Clifford] was on fire," Franklin said. "Really handled being on the road for the first time and a Big Ten environment. Thought the environment there to start the game was challenging as well and I thought we handled it really well."
Penn State returns home to Beaver Stadium for their Homecoming matchup and their first Big Ten home game against a struggling Purdue Boilermaker (1-3, 0-1) team at 12 noon on Saturday.