A Steady Byrne
The average teenager spends nearly six hours in school for five days out of the seven day week. Those in 9th to 12th grade spend the majority of their four years in high school in school and are required to devote a decent amount of their time outside of class to homework and other graded assignments. If you want to excel, you have to put in the time and effort necessary to achieve your goals. Sophomore Aine Byrne is very familiar with this principle and has even mastered the ability to multitask with it. Alongside her school career, Byrne competes in gymnastics and strives for excellence in both.
Competitive sports stress the need for an outstanding performance, meaning that you have to give them your all, all of the time. Your response to this pressure is what makes you stand out because you will either crumble under the weight or become stronger because of it. Gymnasts are no stranger to this concept, but Byrne has found a tried and true way to keep herself stable. "Yeah I'll sometimes get nervous but I just try to remember that we have practiced all year just to compete. It helps to remind myself that I am ready," Byrne said.
Starting gymnastics at age six, it's no surprise that Byrne has found ways to continue enjoying the sport rather than allow the responsibilities that come with it get the best of her. When asked what has kept her in gymnastics for so long Byrne said, "It's really cool learning new skills and I love getting to compete." 
Sticking with a sport for ten years is no small feat and neither is the impressive amount of time that Byrne spends in the gym during your typical school week. In a week, Byrne spends around 20 hours training at State College's Nittany Gym, where she works to improve her abilities, specifically for floor and beam. She trains with her teammates and under the instruction of her coaches, all of whom she is close with. "Gymnastics has allowed for me to form many great relationships with my teammates and coaches," she said. "They have taught me how to work hard and make the most of my time in the gym while still having fun."
These bonds and the motivation inspired by them only grow stronger with all of the travelling the team does together. Most of the meets take place close to home, but, like most competitive sports, gymnastics is known to make athletes go the distance. "Our meets tend to stay near Pennsylvania, but some of my favorite meets we've been to have been in Texas and Florida," Byrne said.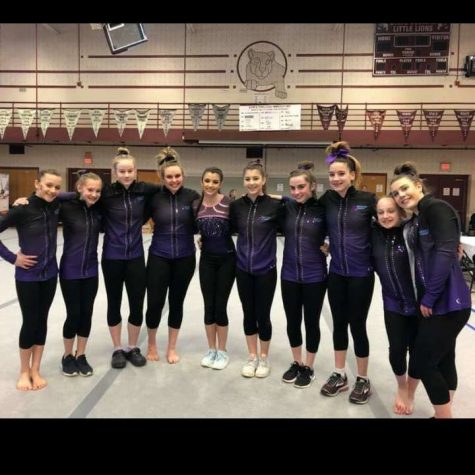 Although it can be fun, going on trips like this can put a strain on other commitments, especially those pertaining to academics. Dedicating everything that you have to two vastly different but similarly taxing things can seem like being pulled apart in two separate directions with each side requiring as much attention and work as the other.
"It gives me way less time to do homework and study," Byrne said, noting the perpetual power struggle she's a part of. "But at the same time, it keeps me from procrastinating too much. It forces me to stay on top of things and spend my time wisely."
It can be a lot to manage, but hard work and determination make the impossible all the more probable. Byrne is not the only person to divide her energy between sports and school, but she is part of the slightly smaller group of those who have given each one a starring role in their lives. With this in mind, she plans to continue on an upward course through both high school and gymnastics, just as she has always done. "Of course I'll continue with gymnastics throughout the rest of high school," Byrne said, "but after that, I'm not too sure of my plans."