Jana Marie Stomps Out the Stigma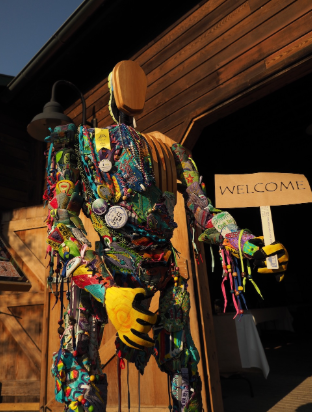 Mental Health Matters; three words everyone can agree on. To say those words is an easy thing to do, but few put them into action. The Jana Marie Foundation is a product of taking those words, doing something with them, and being determined to make a difference. In dedication to Jana Marie Vicere, a Penn State graduate with a Bachelor of Science Degree who took her own life in 2011 after a long battle with depression, the foundation's goal is clear: opening minds and saving lives through educational programming and community mobilization. "I began Jana Marie Foundation in 2012 shortly after my older sister Jana died by suicide. I wanted to let people know that they are not alone and that help is available," said Marisa Vicere, the founder of the organization and sister of Jana Marie. Vicere showcased her emotions through various forms of self-expression such as poetry, jewelry, and pottery. The Jana Marie Foundation strives to continue in Vicere's name, and has been reaching out to communities since 2012, and continues to do so today. 
"I am so grateful for all who volunteer and work with the Foundation. We are like a family and there is so much passion around ending the silence that often surrounds mental health, which keeps me inspired," said Vicere."Our foundation primarily works with middle and high school students, providing programs that focus on promoting mental health, growing confidence, and finding our voices. In order to cast the largest safety net for young people, Jana Marie Foundation also provides educational opportunities for parents, teachers, and concerned adults." 
Programs like "SHINE!", "Side by Side", "Survivors of Suicide Support Group", and many more enable any person at State High to get involved with Jana Marie. Always staying true to their name-sake, many of these programs involve artistic expression, whether through poetry, comics, or hip-hop, and encourage young adults to pursue their passions. 
 Jana Marie Foundation has also become present in middle schools in the district. At Mount Nittany Middle School and Park Forest Middle School, the "SHINE!" program, focused on giving young women time for self-reflection will be held on February 11th, from 5:30-7:00 pm. This kind of presence in schools is critical to preventing students from feeling alone. According to a Newport Academy study on Adolescent Depression in Schools in 2016, an estimated 2.2 million American adolescents aged 12 to 17 had at least one major depressive episode with severe impairment. Additionally, only 19% of those teens received care from a health professional. 
Jana Marie also leads Parent-Teen workshops focused on creating a comfortable environment between parents and their kids which are being held at Mount Nittany Middle School on March 14th, 21st, and 28th from 6:00-8:00 pm. These are just a few examples of how the average adolescent in State College can get involved with Jana Marie. 
Isabella Caceres, 9th grader at State High attended SHINE! last year and found it comforting to know that she had resources to go to when in times of need. "Having a reassurance that my school does actually care about my mental health is really helpful. Now I have more trust in the school. It builds better relationships within the students and adults," Caceres said. "In middle school, I feel like people's mental health suffered more because it wasn't talked about enough. Here, now that I'm in high school- things like the mental health club and the mental health thing in the hub help the school feel more welcoming and safe."
The Stompers Project run by the Jana Marie Foundation uses art, music, and expression to work with/educate the community about mental illness and "stomp out" the stigma of mental health. In the past and even today, it is often difficult to talk about topics such as depression, anxiety, or suicidal thoughts. The stigma around receiving help often gets in the way of people reaching out to others, which is what making eradicating stigma and The Stompers Project so important. It works with schools like State High to initiate conversations about mental health. 
With all the programs that the Jana Marie Foundation runs and all the support groups/crisis resources they facilitate, donations are the main source of income for them. You can donate to the Jana Marie Foundation through their website, and as an alternative to donations, many people volunteer for the foundation. "The majority of our funding comes from public support. We are so fortunate to have a community that believes in our work, which helps with our fundraising. Last year, the State College Softball Team hosted a fundraiser for Jana Marie Foundation which was a huge success!" said Marisa Vicere. 
The phrase "mental health matters" is upheld every day by our community in Center County as they work hand in hand with the Jana Marie Foundation. By supporting one another so that no one feels alone in their battles of mental health, State High can become yet another addition to the achievement of Jana Marie's goal; opening minds and saving lives through educational programming and community mobilization.