State High Remembers Chadwick Boseman
Ethan Jones, News Editorial Assistant
September 15, 2020
On Friday, Aug. 28, fans of Chadwick Boseman and the Marvel Cinematic Universe (MCU) alike were shocked by the sudden loss of renowned actor Chadwick Boseman to an ongoing battle with colon cancer. Boseman, who was known for starring in critically acclaimed films such as "42″, "Marshall", and most notably "Black Panther," passed away in his Los Angeles home at the age of 43, leaving a legacy of 16 films and an impact on film culture that changed movies forever.
Boseman spent much of his career portraying legends in both Black culture and Black history, starting with his portrayal of Jackie Robinson, the first African American to play Major League Baseball, in the 2013 film "42." He went on to play other characters such as legendary Black singer and dancer James Brown in "Get on Up" (2014), lawyer and civil rights activist Thurgood Marshall in "Marshall" (2017), and Marvel superhero T'Challa, otherwise known as the Black Panther. 
NBA Hall of Famer Kareem Abdul Jabbar explained how the impact of Boseman's passing was widespread across the Black community.
"The death of someone so young and vital is always a blow because it yanks our own mortal coil with a fearful snap. But this is worse because Boseman consistently played characters that gave the Black community pride and hope." He continued, "We came out of his movies with straighter spines and wider smiles. We would look at each other and nod, feeling like we were part of something bigger than ourselves, something that went back generations to a whole different continent. We saw a whole history of our people's struggles and triumphs shining in the bright eyes of one indomitable man."
Boseman's passing was not just tragic to his colleagues and those closest to him-many State High students took to social media to voice their sorrows about the actor's death. One of those students, sophomore Lake Black, spoke about what the actor and his legacy meant to him. 
"'Black Panther' meant so much to so many Black people because it was amazing to see a movie with a Black superhero as the main character become the number one movie in the world and connect so deeply with many people of many different and diverse backgrounds," Black said. 
Another State High student who spoke online about the tragedy was sophomore Anthony Fitzgerald. 
"He showed black children that they too could become superheroes. I was shocked when I heard about his [Boseman's] death," said Fitzgerald. "He knew how to show equality in what he did and was Black Panther on and off-screen. He cared about everyone and really did change the way not only how we see superheroes but how we see movies. His strength and passion shined through everyone. Chadwick changed the way we all look at superheroes. He changed the way we look at the world." 
Through thousands of different messages put out by fans, coworkers, and friends alike, the one common message was of love and mourning–an appreciation for a man who changed movie culture and changed the world. 
"I wish we had more time," wrote Black Panther co-star and friend Michael B. Jordan in an Instagram post. "I'm more aware now than ever that time is short with people we love and admire. I'm gonna miss your honesty, your generosity, your sense of humor, and incredible gifts. I'll miss the gift of sharing space with you in scenes. I'm dedicating the rest of my days to live the way you did. With grace, courage, and no regrets. 'Is this your king!?' Yes. He is! Rest In Power Brother."  
About the Writer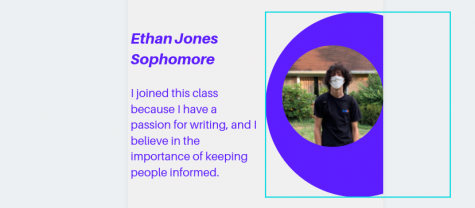 Ethan Jones, News Editorial Assistant
(Pronouns: he/him/his)Ethan is a Journ 2 student and a News Editorial Assistant this year, and he's looking forward to helping State High stay informed...