Meet Your 2020 Fall Captains
Despite the school-wide uncertainty of what this year will look like for any of us, fall sports have managed to stay afloat. In a time where leadership and responsibility are as crucial as ever, the 2020 fall sports captains have their work cut out for them. Here are the players who will be leading your favorite State High teams.
Boys' Cross Country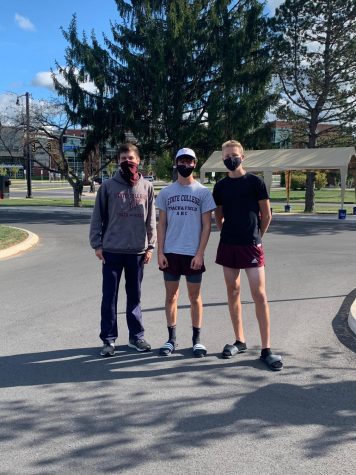 Senior Brady Bigger started running SCASD cross country in 9th grade, but he'd done quite a bit of running prior.
"I've been looking forward to my senior season since I was a freshman, and I've been worried the past couple months that I might not have the opportunity to run. However, thanks to the hard work of many, especially our own athletic department and school board, we've been given the chance to practice and race," Bigger said. "That's honestly all I could ask for and I'm excited to see how the team does."
"I've always loved cross country and I just want to keep getting better and faster," Bigger said on what motivates him. "It's just the best feeling when you knock a couple seconds off your PR or place high in a race. What I really love about XC is how it's both a team and an individual sport. I like to compete as a team, but in each race, regardless of how our team does, I decide how I do."
Co-captains Bennet Norson and Jacob Messner will also be taking leadership positions in the team.
Girls' Golf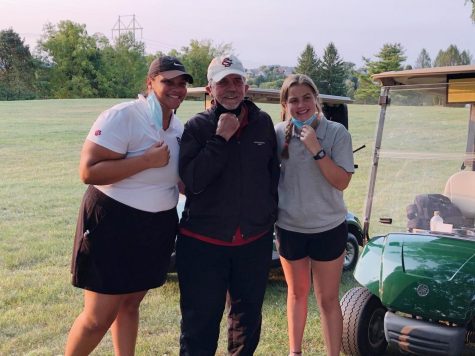 Morgyn Wiley (left) and Riley Kracaw (right) are both seniors. Wiley has been playing golf for roughly three years, and she's excited about districts despite the short season.
"I love the fact that you can always get better, and that every day there's a different way to play you can learn," Wiley said. "I'm definitely motivated by my parents, and my goal to play collegiately." 
Kracaw, who's been playing golf since she was 9, is excited to see how far her team will advance this year into the postseason.
"I'm looking forward to being captain and being able to be a leader for the younger girls who will carry on the team next year," Kracaw said. "I 
was co-captain last year, and it feels good to be co-captain again. I think knowing that I have to do well, not only for myself but for the team and my coaches motivates me a lot." 
"I love that golf is both a team sport and an individual sport," Kracaw said. I have the ability to play for myself and for other people, and there's a certain focused mentality in golf. It takes a lot of decision making and execution to do well, and I love it."
Cheerleading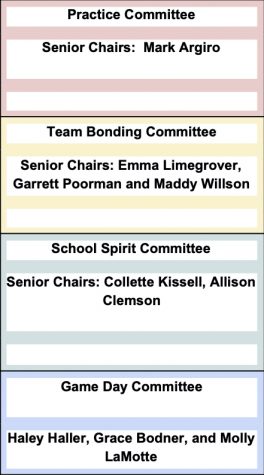 "In place of captains, our cheerleading program has, instead, set up committees that are led by our seniors. Each committee has specific leadership roles and responsibilities, and have been chosen based on the strengths and interests of our student-athletes. We've found this to be a successful way to create strong team bonds and develop collaborative work."-Head Coach Rachel Webb
Committees are listed to the right, with the senior(s) who chair them.
Girls' Soccer
Girls' Soccer has yet to decide on leadership positions. 
Boys' Soccer 
Seniors Owen Adams, Jacob Jeffries, Alexander Mohoruk, and Griffin Lee are the  2020 State High Boys'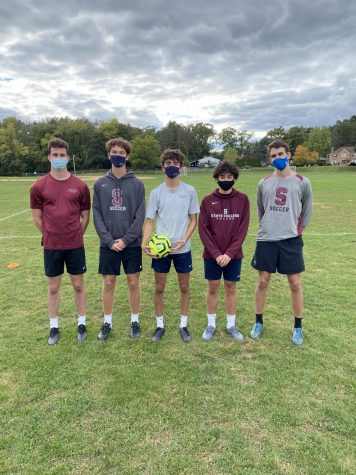 Soccer captains.
Adams, who has been playing soccer since he was seven years old, is excited for the opportunity to still have a season despite everything being so different this year.
"There were moments where I was not sure if we would get to play any games at all," Adams said. "I think that we have a lot of great leaders this year, so I am excited to keep pushing each other and getting better."

Adams also spoke on what motivates him.
"My main motivation comes from my teammates. We all feed off of each other's energy and work hard for one another. What I love most about soccer is the family that it provides. We consistently have a very busy schedule and spend so much time around each other. Throughout our season there are always highs and lows, but each year we create long-lasting memories," Adams said. 
Mohoruk, who has been playing soccer since 8th grade, is excited for the season because of its overall uncertainty.
"With the season almost not being able to happen at all, it has heightened all the emotion and effort I have put into it," Mohoruk said.
"For me, my biggest motivation is working to get better, I haven't played as long as most people so I don't have all that experience to lean on," Mohoruk said. "What I love most about soccer is playing goalkeeper. I love the pressure, the saves, and everything that comes with it. It has quickly become my main focus from other sports and activities and I don't want to stop playing." 
Jeffries has been playing since he was four, and he's most excited about improving with his team and earning hard-fought victories.
"My determination to excel motivates me because I am always looking to get better than my opponent every day," Jeffries said. "I love the team aspect of soccer because I love working in groups to develop together and strive for the same objectives."
Lee has been playing soccer since he was three, and is looking forward to "getting back out onto the field with my teammates and playing our butts off to try and get the best results we can."
"The season has already shown positive signs of a very good season to come, and I am happy that I get to be a part of it. I think a lot of my motivation comes from wanting to play the best I can for my teammates," Lee said. "You always wanna put in a great shift for each other because it helps the team achieve good results. Personally, I love the feeling of winning a close game, knowing that I played to the best of my ability. I also love the overall atmosphere of the sport, whether it's just watching a game or playing in it."
Captains not in segment: Tyler Price
Girls' XC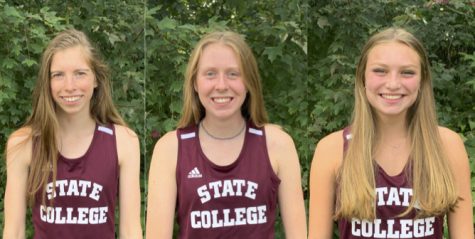 Senior Jordan Reed started running cross country in 8th grade and is excited about running with her teammates and spending time with them. 
"Summer training was difficult to do alone, so I am grateful to be able to practice and work hard with my teammates," Reed said. "As a captain, I am looking forward to getting to know everyone on the team better and being as supportive as possible."
When reflecting back on her time running XC, Reed spoke about what motivates her.
"Thinking about all of the hard work I have dedicated to the sport definitely motivates me to try my best at practice and in races. Also, supporting my teammates and making my coaches proud motivates me. My favorite thing about running is the feeling of accomplishment after a race or hard workout, and knowing that I've given my all for myself and my team."
Reed's co-captains are Molly Solo and Maggie Leahey.
Football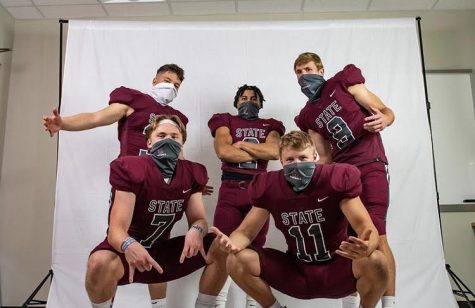 Seniors Dresyn Green (2), Sammy Knipe (29), Conrad Moore (7), and Carson Franks (11) are the 2020 football captains.
Green, who has been playing since he was seven, is excited to spend his last season playing with his younger brother one more time.
"I love the unity that football creates for not only us as players but us as a community," Dreysn said. 
Moore has been playing since 3rd grade and is looking forward to playing at Memorial Field and making a positive mark on State High Football for years to come.
"Having it be my senior year this season motivates me the most," Moore said, "because this is my last year I'm going to be able to play football and I want to end it well."
"I love the team chemistry in football. Guys of different positions work together every Friday and practice all week to achieve the same goal," Moore said. 
Franks, who started playing in 1st grade, is excited to show what he can do this season after having worked so hard.
"I'm also excited to be a captain for my team because it makes practice, games, and everything more important to me," Franks said. "I can't wait to lead my guys on Friday nights."
"What motivates me the most was growing up I was undersized, not athletic enough, and I was always taken advantage of for my weaknesses on the field or on the court. I used that frustration and anger to motivate me to become better and I've carried those feelings with me all the way to make sure I never experience them again," Franks said. 
Franks touched on what he loves most about football.
"What I love most about football," Franks said, "is going out with my boys on Friday nights and just leaving it all on the field. The atmosphere surrounding a football game is something you can't find anywhere else and is something I always look forward to."
Knipe grew up playing flag football from a young age and ready to "run it with the boys one last time." "We've been working so long for this and I just want to cherish every moment," Knipe says. "I know later in life I'll look back at this year, and I just want to ensure I lay it all on the line and don't take anything for granted. "I'm motivated by just looking back at my past and how far I have come," Knipe said. "I could've ended up in a lot of bad places and I'm blessed to be in the position I'm in today. I won't settle for anything but my best."
"I love football," Knipe said, "because it is one of [the] only places I can physically hit another man, as hard as I possibly can, and not have the cops show up on my doorstep."
Captains not in segment: Stevie Guthoff
Girls' Volleyball
Seniors Anna Letendre, Sarah Neely, and Kacy Sekunda (left to right) are the 2020 volleyball captains.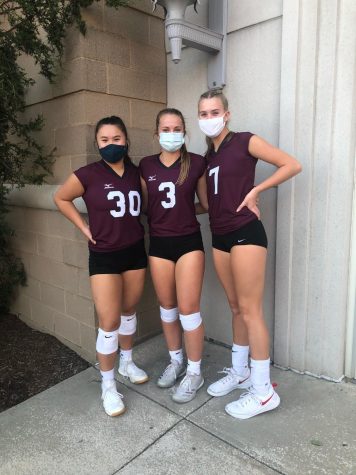 Letendre started playing in 7th grade, and she's excited to play one last season with her teammates who are now some of her closest friends.
"I love the challenge, the team chemistry, and intensity of volleyball," Letendre said. "It's 100% a team sport and it's really fun to play with my teammates every day. I'm motivated by working hard with my teammates to reach our goals and seeing all of our hard work and effort pay off."
Neely, who started playing in 4th grade, is most excited about getting to share another season with her team.
"In my previous three years, I always looked up to the captains," Neely said, "and I am looking forward to being someone that the younger girls on the team can look up to."
Neely also spoke on what motivates her and what she loves most about volleyball.
"I am motivated by the people in my life. My friends and family have always been a huge motivation factor. Knowing that they have my back and wanting to make them proud has always inspired me through anything in life. The thing I love most about volleyball is the connections and relationships I have formed because of it," Neely said. 
Sekunda, who's been playing since fourth grade, is currently in her second year as a captain.
"I'm most excited about having the opportunity to play this year with everything going on," Sekunda said. "I think we have a very good group as a whole and a good opportunity to go far and do good things. This is my second year being a captain and I'm excited to continue to be a leader for my team. I enjoy being someone my teammates can look up to and count on in different situations."
Sekunda is motivated by her love for winning.
"I'm a very competitive person, and I come from a very competitive family, so (winning) has always been a big part of my life. My teammates are also one of my main sources of motivation. I work hard and put in 100% because that's what I expect from them."
"I love the team aspect of the sport," Sekunda said. "It takes every person on the court, as well as on the bench, to win. One of the best feelings is having a great play and just going wild celebrating with your teammates after the point."
Field Hockey
Seniors Maddie Tambroni (right) and Johanna Lee (left) are the 2020 field hockey captains.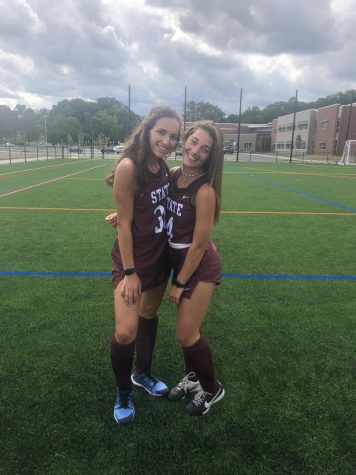 Lee started playing Field Hockey in 8th grade, and she's looking forward to seeing how well the team can do this year.
"As for being captain," Lee said, "I'm excited to represent my team and to take on a higher leadership role." 
Lee also spoke about what motivates her to play and what she loves most about playing field hockey.
"I am a very competitive person, so competition motivates me the most, whether that be in a game or just against my teammates at practice. The thing I love most about field hockey is the thrill that comes with the game. The thrill from scoring, winning, making a great play, or even just playing alongside your best friends."
Tambroni, who's been playing field hockey for as long as she can remember, started officially competing in 3rd grade.
"This year I am so honored to be leading this team along with Jojo and the 6 other seniors," Tambroni said. "This team is so special, with all of the changes and uncertainty that have been happening within our community and the world, this team is always doing everything we can to get through it and be the best we can be without any complaints. I'm so excited to be a part of this team and truly compete this year, always playing like it could be the last chance we get to step on the field together."
Girls' Tennis
Senior Sruthi Ramesh (right) started playing tennis as a young kid, but only began playing competitively when she joined the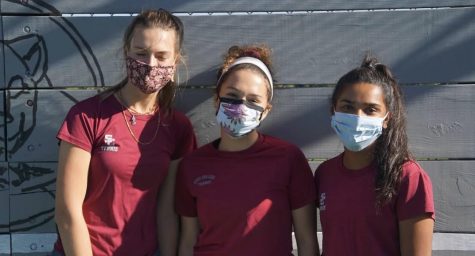 SCAHS team in 9th grade.
"I am really excited about the opportunity to have my senior season and play tennis with my teammates," Ramesh said. "Additionally, I am excited that I can help lead the team and be an example for the younger players."
Ramesh reflected on the aspects of tennis that both motivate her and make the sport special to her.
"I love playing tennis, and the girl's tennis team is an awesome environment to be a part of, so just getting out and playing with my teammates motivates me," Ramesh said. "As I said previously, the team has so much fun and that makes competing even better. I love competing, practicing, and spending time as a team."
Ramesh's co-captains are Catelyn Janac (left) and Eleanor Morar (middle).