State College Field Hockey Defeats North Allegheny in Home Opener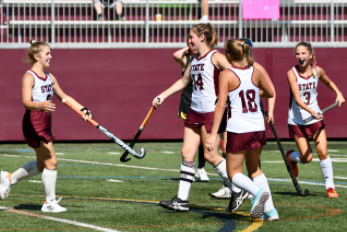 State College Field Hockey hosted North Allegheny High School at Memorial Field on Saturday, Sep. 4th. JV ended in a 0-0 tie and Varsity won with a final score of  1-0.
JV started first, coming out strong by winning six penalty corners and taking 23 shots by eight different players. Throughout the game, goalie Keira Loviscky was shot at three different times but was able to save all the shots that came at her. Although neither team succeeded in scoring, State College was able to keep their power flowing by staying in control of possession.
Before Varsity started their game, Senior Captain Leah Moyer expressed her excitement for the first game of the season.
"I'm so excited to finally play with my team and show what we've been working on," she said, "we want to come out onto the field and show grit, passion, and service."
As the first quarter began, State College moved the ball swiftly down the field and earned a penalty corner once they entered the shooting circle. Although a goal was not achieved, the team continued to play on and dominate in possession.
Throughout the game, State College fired on North Allegheny's goalie a total of 19 times, but North Allegheny would not let one shot through. By the time the fourth quarter rolled around, the game remained scoreless; with 12:21 left in the final quarter, senior captain, Phebe Herlocher, took the ball into the top of the circle and sent a hard shot to the corner of the goal, making the score 1-0 State College, with minutes left in the last quarter. This impressive goal from Herlocher put State College on top for the rest of the game, allowing them to win their first game of the season.
"From today, I'm so proud of our resilience. We kept our opponents with no shots in a panicked situation, so I felt like we controlled our emotions and our playing," Sharon Herlocher, head coach, expressed after the victory.
"My hopes for the season are that we continue to build together and keep up the great energy shown today," Herlocher said when providing an outlook towards the rest of the season.
The field hockey team travels to Carlisle next Wednesday, Sept. 8, hoping to further their winning streak.