Lana's Latest: "Did you know that there's a tunnel under Ocean Blvd"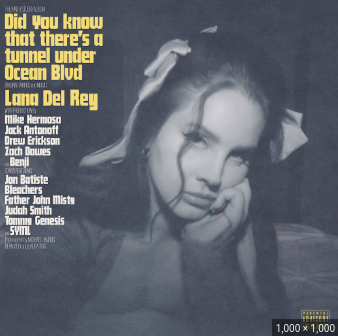 Grammy-nominated star, Lana Del Rey, announced her ninth studio album "Did You Know That There's A Tunnel Under Ocean Blvd" and released its title track on Wednesday, Dec 7. Fans will have to wait until March 10 for this highly anticipated album, although it is available for pre-order. 
"So it's coming out in March and thank you to your guys for listening! The music is for fun and for you and for me…" Del Rey writes in a typed letter that she uploaded to her private instagram account, thanking her fans and those who helped create the album. 
Fortunately for Del Rey's dedicated fans, this upcoming album will drop only a little over a year after the release of "Blue Banisters", her most recent full album. The busy musician has also been keeping her fanbase entertained with her appearance on Taylor Swift's "Midnights" album, featuring on the romantic track, "Snow on the Beach". 
In the meantime, fans can enjoy the title track. The famous singer-songwriter's feminine, melancholy style is showcased in the song, complemented by orchestral instrumentals. "I can't help but feel like my body marred my soul/Handmade beauty sealed up by two man made walls," she sings, "When's it gonna be my turn?" 
The album's lyrics make reference to long time classics, such as The Eagles "Hotel California".
"There's a girl that sings 'Hotel California'/Not because she loves the notes or sounds like Florida" Del Rey sings. The Los Angeles based musician also makes a nod to Harry Nilsson's 1974 classic "Don't Forget Me" in the third verse of her song.  
Within the few days that "Did you know that there's a tunnel under Ocean Blvd" has been made public, there has been nothing but overwhelming praise for the release. Del Rey's song topped Billboard's poll for this week's favorite new music, boasting a 80% vote, with Paramore at 13% and SZA with 5% of the vote. It's safe to say that the successful title track leaves fans with high expectations for the upcoming album. 
Jack Antonoff, who previously collaborated with Del Rey on Blue Banisters and Chemtrails Over the Country Club is producing the upcoming album alongside Mike Hermosa, Drew Erikson, Zach Dawes, and of course the star herself. 
As her album cover reveals, the song will feature six artists, Jon Batiste, Bleachers, Father John Misty, Judah Smith, Tommy Genesis and SYML. Del Rey thanked virtually all producers and featured artists in a typed letter that she uploaded to her private instagram account, @Honeymoon. "What can I say! I'm so grateful to be present and feeling effervescent today." Del Rey goes on to graciously express gratitude to all who contributed to the album, and to producer Jack Antonoff she writes: "And of course, for Jack for sitting down now and then to write effortless ballads that seem to come full intact as though they were always there." 
This first taste of the upcoming album has the potential to join Del Rey's collection of much loved classics, and this chart topping song has sparked fans' excitement for the release of the full album.